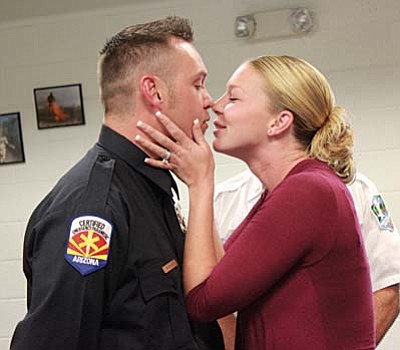 Originally Published: May 23, 2015 9:06 a.m.
RIMROCK - Thursday, the Montezuma-Rimrock Fire District Governing Board approved a Shared Services Operational Authority Inter-Governmental Agreement that will allow Fire Chief Terry Keller to move equipment and personnel around on a short-term basis.
"This allows for me as the fire chief to send someone from Camp Verde to Montezuma-Rimrock if someone is sick until someone can come in to replace him. It also allows me to move equipment around as well. If Camp Verde needs an ambulance, we can send one over until they can get it fixed." Keller said.
Short term is based on a four-hour time frame in which Camp Verde and Montezuma-Rimrock can loan personnel and equipment to each other without cost.
Keller said this is just the beginning with shared services IGAs as both districts consider adding to the IGA in the future with possible compensation for both districts when sharing personnel and equipment.
"This will help either district support the other, and help each other in times of need," Keller said.
The Montezuma-Rimrock board also approved an IGA for dispatch services with the City of Cottonwood. In past years, Montezuma-Rimrock has utilized Sedona dispatch services. But Sedona has decided to get out of the dispatch business. Keller said that he had exhausted all options before bringing the IGA to the governing board.
"This is the only option we really have," Keller said. "We don't have too much of a choice other than to go with Cottonwood."
Since October, Cottonwood has brought in fire districts from Jerome and Clarkdale. Keller said everyone has been satisfied with the service so far.
Cottonwood, which is a police department based dispatch center, will charge $60 Sedona, which is a fire district based dispatch, charged $68.95 a call.
In other board news, one firefighter and two engineers were pinned at the board meeting after each completed respective tests. Michael Kelley-Coplin, who has been a reserve firefighter for five years, was promoted to full time. Josh Good and Josh Uhler both were pinned after passing their engineer exams, the next step to becoming a firefighter.
The board also discussed the budget for the next fiscal year with the possible purchase of a new ambulance in the coming year.
-- Follow Greg Macafee on Twitter @greg_macafee and Instagram @VerdeValleyNews