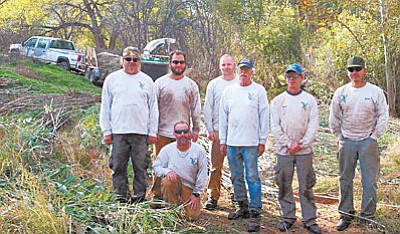 Originally Published: November 10, 2015 11:45 a.m.
COTTONWOOD - When Gary Rideout saw a need to empower local veterans, he did something about it.
The Marine Corps veteran opened Cottonwood-based Vetraplex-Vets4Hire, putting his fellow veterans to work on community-based projects. It's a win-win for veterans as well as homeowners, businesses and organizations requiring dependable labor.
Vetraplex-Vets4Hire supplies trained employees to tackle clean-up, construction, handyman, hauling, landscaping, moving, painting and other projects ranging from one hour to 22 weeks.
Demand has been so great that the business is franchising additional locations.
"We're going on our fourth year," said Rideout. "We have two operations in Phoenix, one in Queen Creek, one in Prescott, one painting franchise and one corporate office here."
"The nice thing is we all work together. Recently we had a retired lieutenant moving from Phoenix to Prescott. The Phoenix crew moved him and Prescott crew unloaded him."
His story
Rideout's story is one shared by many young people seeking military service.
"I just turned eighteen after boot camp. I was patriotic-my dad was a Marine, my grandfather served in the Navy during Pearl Harbor. It was a good choice for me at the time," Rideout said.
Rideout served his country in Desert Storm and Desert Shield. Later, he entered a successful insurance career in Chicago. Yet after 17 years in the business, Rideout felt the need for a change.
"I sold my house and went on a year-long RV trip, selling insurance in 22 states. When I rolled-up in Sedona, I thought, 'I could live here,'" said Rideout.
"I was making good money but something was missing. The Marine Corp was dear to my heart. I saw what veterans went through and thought, 'There's got to be some way I could help,'" he said.
It started with Rideout working as a consultant for Housing for Heroes. When the non-profit went under, a change of events led him on another journey.
His big break
Four years ago, Rideout was at a charity golf tournament when Chip Norton, President of the Friends of the Verde River Greenway, approached him. It seems Norton had heard Rideout was "plugged-in" with local veterans and asked if he could provide workers for a project to remove invasive species along the Verde River and Oak Creek.
That was the first project for Vetraplex Vets4Hire.
"Right now we have a crew of seven that work for Friends of Verde River Greenway. They get two weeks of training and 20 weeks in the field," said Rideout.
His employees range in age from late-twenties to late-sixties and his client list includes the City of Cottonwood and Town of Jerome.
Rideout credits Friends of Verde River Greenway for getting him launched and established, the Arizona Small Business Development Center Network (ASBDCN) for guiding him and assisting with a location and Northern Arizona Council of Governments (NACOG) for subsidizing employee wages during their training period.
What it means to veterans
Rideout has watched many a combat veteran dropped back into civilian life with little transitional support.
"The situation is, you're living on the street, but you have to get off the street to get a job," Rideout said, "and you may not have a driver's license or a vehicle to get to work."
An employee shared with Rideout the expenses he was faced with in trying to move into an apartment, including coming-up with first and last month's rent, security deposit and utility deposits.
"You're talking about a couple thousand dollars. It's not an easy thing for some of these guys," said Rideout, who has been known to help new employees get their feet on the ground.
To break this cycle, Rideout goes above-and-beyond what other employers are willing to do for veterans. For example, his employees receive free training, are provided transportation to and from the jobsite and receive wages ranging from $12 to $15 per hour.
"We still have the first guy we ever hired," Rideout said.
The future
In March, Vetraplex-Vets4Hire earned the Small Business Success Award, one of only a handful awarded statewide.
With statewide recognition and more franchises on the way, the future looks bright for Rideout's company.
"We hope to franchise nationwide. The community wants to help and hire veterans," said Rideout.
To ensure his employees a fair wage and in order to cover insurance and workers compensation premiums, Rideout says the minimum customer fee is $25 per man-hour.
Those wishing to hire a veteran can phone 928-284-2022 or visit www.vetraplex.org for more information.