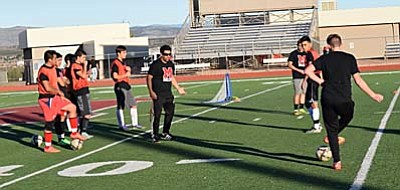 Originally Published: November 19, 2015 12:27 p.m.
COTTONWOOD- For the Mingus Marauders boys soccer program their 2014 season was one of their best in recent memory. The 2014 season started off with a loss in a controversial game that ended in a 3-2 final, against the Mohave Thunderbirds. The Marauders weren't put down by an early season loss and they didn't lose another game the rest of the regular season, finishing with a 10-1 overall record and going undefeated in the section.
After a convincing 2-0 first-round victory over Sedona Red Rock, the Marauders ran into Coronado in the quarterfinals and Marauders Head Coach Calvin Behlow described the quarterfinal game as one of the most exciting games he has ever been a part of.
"We went down two at half, battled back scored two, and then it just went back and forth from there and it was just a great game," Behlow said.
The Marauders battled to a 4-3 loss but it was not lost on them that they had one of the best seasons in the programs history.
Losing ten seniors to graduation can sometimes hurt a program, but Behlow says it won't be a rebuilding year for the Marauders, who are returning seven players from the 2014 squad including their top point scorer, sophomore Ezekiel Behlow, who finished with nine goals and six assists last year as a freshman.
"We have some strong players back" Behlow said. "A couple sophomores that have stepped up in the offseason and worked hard, so we are just going to kind of throw some guys out there and see what we get this year."
After keeping 17 last year, Behlow will keep 20 players on the roster this year, all who have seen what it takes to be as good as they were last year, and have seen the work ethic it takes to get there.
Along with Ezikiel, the Marauders will return senior Luis Hernandez who Behlow will try to move forward more this year to get more opportunities. Luis will be returning with his cousin, Martin, and Behlow believes those two along with Ezekiel will make up the core group of players to carry the team in their 2015 campaign.
As for how the Marauders will adapt their game plan after losing ten seniors, they will have to change things up a bit. After dominating possession last year Behlow says the Marauders will have change their philosophy and look for simple counters and make adjustments from game to game.
"Our game plan is going to have to change. Last year we dominated teams with possession even our first round of state playoffs we had 76% possession we just held possession very well and you don't give up a lot of goals when you do that," Behlow said. "I think in the last two years we have a 53-12 goal differential, we just held the ball so long last year I don't know if we will have that caliber of players so we have changed our philosophy and we are going to look to play some simpler counters and just use the skills we have."
The third-year Head Coach thought one area he was going to run into problems this year was with his defense, after losing all four of his starting defenseman from last year. Behlow said four guys came into this year ready to step into that crucial defensive role.
"We have those defensive players Jesus Lopez and Martin Hernandez who has kind of moved himself out of a left winger position and into a defensive stopper role," Behlow said.
Behlow grew up as an offensive player so he hasn't always been the biggest fan of defense but admitted that this year his squad might have to pack it in at points and put six guys in the box. He also said that there may be some times throughout the season where they try to put the pressure on the offensive end and keep possession of the ball like they are known to do.
"We are still going to try to play soccer I think it will be a lot of game time adjustments," Behlow said. "We might look totally different from game to game this year. Last year I was just going to throw 11 players on the field and it was going to be let's win the ball and keep it. This year we might have to adjust and pack six guys in the box, and then just wait to counter or we might be able to high-pressure with four or five guys and then just look to possess the ball from the back line."
The Marauders start their season off with a pre-season tune-up game against Joy Christian on Friday at 5 p.m. before they open their regular season play with a home game against the Bradshaw Mountain Bears on December 1. The Marauders will then hit the road to face off with the Coconino Panthers. The Marauders will face new competition this year as the Arizona Interscholastic Association switched things up again and added a fourth division to boys soccer.
The addition of the fourth division allowed some Division III teams to drop down to the fourth division.
The five teams that remain in Division III, four of them competed in the state playoffs last year. Five teams also dropped down from Division II to Division III this year which leaves the Marauders with new competition for the 2015 season.
"Its always fun to play the Cortez's and Coronado's they are always top of the Division III," Behlow said. Cortez lost in the quarterfinals last year, so that's a team that's now in our division, we have never played them before but they are a special team There are really no teams where we will be able to just show up and win. Every game this year is going to be a challenge."
The Marauders start off their season on December 1 at home against the Bradshaw Mountain Bears, the game is set to start at 5 p.m.
-- Follow Greg Macafee on Twitter @greg_macafee and Instagram @VerdeValleyNews
December 1- vs Bradshaw Mountain, 5 p.m.
December 3- at Coconino, 3 p.m.
December 8- at Scottsdale Christian, 6 p.m.
December 15- vs Moon Valley, 5 p.m.
December 17- at Northwest Christian, 6 p.m.
January 5- vs Prescott, 5 p.m.
January 7- at Moon Valley vs. North Pointe Prep, 6 p.m.
January 11- at Independence, 6 p.m.
January 15- vs Cactus, 5 p.m.
January 19- at Cortez, 6 p.m.
January 21- vs Page, 5 p.m.
January 26- vs Sunrise Mountain, 5 p.m.