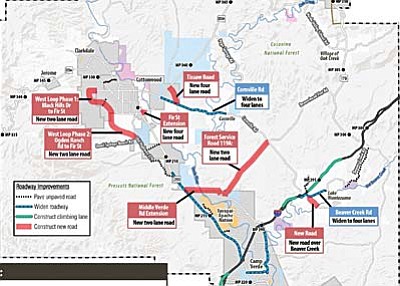 Originally Published: November 28, 2015 9:44 a.m.
VERDE VALLEY -- During meetings in July in Sedona, Cottonwood and Camp Verde, citizens attached post-it notes to maps showing where problem and congestion occurs on roads in and around the Verde Valley.
Using that information, Jacobs Engineering Group provided expertise for a collaborative project between the Verde Valley Transportation Planning Organization and Arizona Department of Transportation.
In a second round of meetings in mid-November, recommendations were identified as solutions to the problem areas originally identified.
Patrizia Gollana of Jacobs Engineering explained that the project to improve mobility for current and future needs won't be funded without proper planning. She said, don't expect "instantaneous solutions, exact alignments or environmental analysis at this stage."
Stake holders, including police, fire, schools and similar institutions provided input to the recommendations. In the case of forest roads recommended to be upgraded, there is concern about compromise of character for convenience of motorists.
Some areas, particularly around Sedona where citizens originally demanded a two-lane State Route 179 improvement, engineers now believe it might be best to mount variable message boards on I-17 that show the travel time to Sedona using SR 179 vs SR 89A via Arizona 260.
The study states current population today is estimated at just under 70,000 for the entire Verde Valley, but is expected to reach 83,000 by 2025 and 97,000 by target year 2040. The fastest growth will not occur in municipalities, but in unincorporated Yavapai County, particularly in the Lake Montezuma and Cornville areas.
In addition to roadway improvements, shoulders will need to be widened, sidewalks and multi-use trails created to accommodate multi-modal use. The upgrade of SR260 as a four-lane highway east of Thousand Trails was already approved for construction by the State Board of Transportation and is expected to begin construction in early 2016.
Public comment on the plan will be accepted until Dec. 4 at Arizona Dept. of Transporation, ADOT MPD, 206 17th Ave. MD 310B, Phoenix, Az 85007 or email clopez@azdot.gov
Traffic studies needed to evaluate Intersection safety improvements
1) State Route 89a and SR 260
2) State Route 89a and SR 179
3) State Route 260 and Fir
4) State Route 89a and Cornville Road.
5) Interstate-17 and Cornville Road.
6) State Route 179 and Beaverhead Flat Road.
7) State route 89a and Page Springs Road.
Recommended Short-term Roadway Improvements:
CLARKDALE
Upgrade Broadway to major collector.
COTTONWOOD
Pave Groseta Ranch Road as 2-lane road Broadway to SR89A.
Construct Phase 1 of West Loop from Black Hills Drive to Fir Street as a new two-lane road.
Upgrade Mingus Avenue as a major collector from North Main to Willard Street.
Upgrade Main Street as an arterial from Mingus Avenue to SR89A.
Create a four-lane minor collector road from SR260 to 89A around Verde Santa Fe.
CORNVILLE
Construct four-lane of Tissaw Road from Cornville Road to SR89A (through future subdivision).
BEAVER CREEK
Upgrade Beaver Creek Road as a major collector from Montezuma Avenue to Montezuma Well Road.
Perform unpaved road treatment on Beaver Creek Road, from Montezuma Ave to Ranger Road.
SEDONA
Upgrade Brewer Road and Ranger Road to minor collectors.
Long term Roadway improvements:
CORNVILLE
Redesign and reconstruct the SR89A/Page Springs Road intersection.
Widen Cornville Road to four lanes from SR 89A to Page Springs Road.
COTTONWOOD
Construct a new two-lane minor collector road at West Loop Road Phase 2 from Ogden Ranch Road to Fir Street.
CAMP VERDE
Extend Middle Verde Road as a two-lane minor collector (bridge) to SR 260. Pave FS 119A Middle Verde Road to Cornville Road (connects to Beaver Head Flat Road).
Widen Montezuma Castle Highway with center turn lane I-17 to Main Street.
BEAVER CREEK
Redesign and reconstruct I-17 Cornville Road Interchange.
Construct new roadway from Montezuma Avenue to Beaver Creek Road.
Widen Beaver Creek Road to four lanes from I-17 to Montezuma Avenue.
Pave Beaver Creek Road as a two-lane Roadway from Montezuma Well Road to Ranger Road.
More like this story