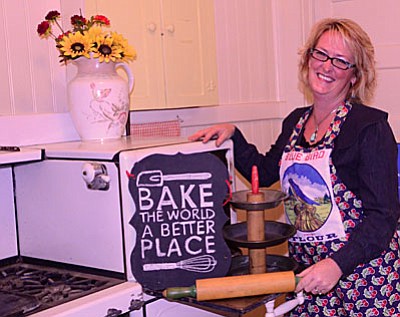 Originally Published: October 8, 2015 3:26 p.m.
CAMP VERDE - The Verde Valley Questers will be at Fort Verde Days selling their homemade pickles and pies. The money they raise through selling these goods goes towards restoring the historic Hance House, adjoined with Fort Verde State Historic Park.
The Questers believe in the preservation and restoration of history. There are 20 members of the Verde Valley chapter, which puts them at capacity. For more people to join, another chapter must be formed.
Each month, they watch presentations about antiques. They also go on field trips to learn about the history of the Verde Valley.
"When Ann [Everett] started our chapter she was looking for a project and the Hance House was a perfect fit," said Candy Hammond, a member of the Verde Valley Questers.
So far, the Verde Valley Questers have redone the floors and painted the inside of the Hance House.
They also have been on the lookout for period pieces to furnish the home. Their next project is to restore the kitchen to how it looked when the house was built in 1917. They have already gotten a stove that is accurate for that era.
This year the members have baked 42 pies for Fort Verde Days. There will be 30 whole pies, as well as 12 pies which will be cut and sold per slice. They will be selling whole pies for $12, and slices for $3. The members have baked all different types of pies with locally grown fruit. There will also be sweet and spicy pickles for sale. They will be sold for $8 per jar.
They will also be having a raffle, which anyone can enter as long as they drop their ticket off at the Hance House.
The Verde Valley Questers' booth will be set up outside of the Community Center Gym from 10 a.m. to 2 p.m. or until they are sold out.
-Follow Aryssa Carvalho on Twitter @aryssamashon and on Facebook.com/cvbugle