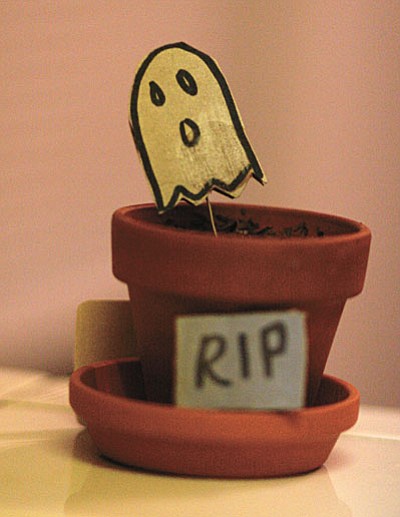 Originally Published: October 13, 2015 2:45 p.m.
CAMP VERDE - Decorating for the holidays has always brought me joy. Who can resist the opportunity to bust out the fake spider webs, candy corn and pumpkins?
Decorating for Halloween can be an activity for the whole family to enjoy. Sometimes decorating can become expensive, but these tips will have your home looking festive in no time, without breaking the bank.
In college, my roommates and I would come up with the most inexpensive way to decorate our dorm for the holiday. Our junior year, we decided to make ghosts out of fabric and plastic bags and hang them from our ceiling. This can be a great activity for children to do. We went to the local fabrics and crafts store and bought a yard or two of white fabric and some curling ribbon. It couldn't have been more than $4.
We cut the fabric into squares, depending on the size we wanted our ghosts. We then bunched up a plastic bag or two into a ball and put it in the middle of the square we had cut out. We picked up the corners of the fabric and held it underneath the ball of plastic, making a head. Then we used the curling ribbon and tied it below the head (bag). We now had a ghost-like figure. To make each one have its own personality, we got a maker and drew faces on them. We then hung them from the ceiling with a paper clip and curling ribbon. For step by step directions on how to make this, go to The Bugle website at cvbugle.com and click on Fabric Ghosts. We also used printer paper to draw decorations. This would be great for little kids. We could make a sign using each letter of a saying per piece of paper. So, say we used "Happy Halloween" as our saying, each letter would be on a different piece of paper. This way each of us could put a spin on the letter we were writing. Along with writing the letter, we could add drawings of things related to the holiday. This would include spiders, webs, pumpkins, witches, or tombstones. I can't draw whatsoever, so it always looked like a 5-year-old drew mine, but it was always tons of fun. We would spend at least an hour drawing, while watching Halloweentown to pass the time.
If crafting isn't for you, buying inexpensive decorations can also be a good way to spruce up the house around the holidays. The Dollar Tree, there's one in Cottonwood, or any dollar store for that matter are great places to find a steal. They always have their holiday decorations out a month or so before the event. I like to buy my fake flowers, leaves and berries there. They also have signs that have sayings pertaining to the holiday on them. This year, I bought two ceramic pumpkins from the Dollar Tree for only a dollar each. And the best part is, is that they look expensive. Sprucing them up with a little flora and fauna can be a great way to accent the pumpkin. They also have hanging skeletons and tombstones.
Walmart is also a great place to get holiday decorations without going over budget. They have holiday ribbon, wall signs, pumpkins and much more. Some of their pumpkins are for less than a dollar and would look great on a mantel or a side table. This year, I bought a sign for the wall for only $3. I also bought two little pumpkins to go around the sign for under $2 apiece.
The value bin area at Target also has inexpensive décor for any holiday. This year, they have yard stakes with different sayings on them. I bought one for $3 that says "Home of the wicked witch and her little monsters," clearly my cats are my little monsters, so it seemed fitting. They also have signs for a mantel or desk for only $1. I purchased one that says "Happy Halloween" to go on my desk at work. They also had light strands with all different designs on them. They had burlap banners with spiders, polka dots and webs on them. There were little tin containers for a $1 to put in candy or other goodies.
So, grab your decorations and craft supplies; gather your family, turn on Hocus Pocus, and get to decorating!
- Follow Aryssa Carvalho on Twitter @aryssamashon and on Facebook.com/cvbugle