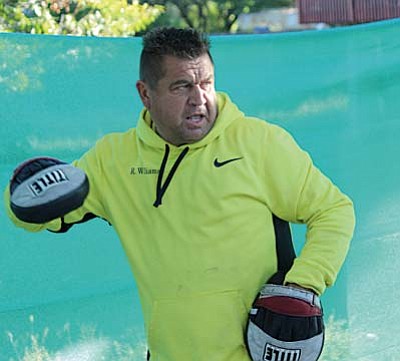 Originally Published: October 27, 2015 12:43 p.m.
VERDE VALLEY- On September 15, 1990 Richard "Cobra Jet" Williams promoted his first fighting event.
The event was held at the old Camp Verde High School and was headlined by Williams squaring off with Johnny "Gonzo" Gonzales from Chandler.
It was the first time Camp Verde had brought an International Kick Boxing Event to town.
On Saturday, October 17 William's journey came full circle as he promoted his last fighting event and brought an end to Golden Cobra in the Verde Valley as chases his dreams and moves to the next level.
Williams will continue to be involved in fighting as he will try and join the Arizona Boxing and MMA Commission as a judge and referee
"It's all part of my dream," Williams said as he looked over scrapbooks that reflected his career in the Verde Valley.
William's last event, The New York Style Throwdown III held at Vinnie's in Cottonwood, featured two of the best young fighters in the country. Corey Hines from MMA Lab in Glendale, and Ray Allen Jr. from Houston, Texas.
It was just another example of what Williams and the Golden Cobra Center of Fitness are all about, helping kids.
Williams, the founder and president of Golden Cobra Center of Fitness has been promoting fights in the Verde Valley and helping kids from the area for close to 20 years. Williams and his gym were involved with such programs as Fit Kids of Arizona, as well as working with kids from the drug court program to give them a positive outlet. Williams and Golden Cobra were also a part of a fund raiser to raise money for the Law Enforcement Heroes K9 Bronze Statue at the Cottonwood Police Department, as well as many other events throughout his time in the Verde Valley. The Fit Kids of Arizona, a program through the Verde Valley Medical Center, is committed to the assessment and treatment of children who are overweight or obese. Their mission is to reduce the health consequences of childhood obesity by promoting healthy lifestyles. During their partnership with Golden Cobra the gym would train the kids every Monday like they were preparing for a boxing match.
The New York Style Throwdown III match card also featured Nicholas Salantri in the semi-main event fighting for the Amateur Muay Thai Arizona State Middleweight Title. William's has trained many fighters throughout his career, and he said Salantri will more than likely be his last. Salantri spoke highly of his trainer before his title fight on October 17.
"It's always been an honor to have Richard as my instructor, he's been helping kids in the Verde Valley for 20 years and anybody who is anybody in the Verde Valley started with Richard," Salantri said. "He has gone out of his way to help me and I am very happy for him as he is moving on to the next stage of his life, where he can be involved with the MMA boxing commission and be judge and a referee so it's not like he's retiring, he's just moving on to the next stage, where he can have time for his kids and his grandkids."
Other than Salantri, Williams has trained many fighters throughout his time in the Verde Valley. His first student came just after he promoted his first fight in 1990.
He went by the name Robert "Golden Leg" Carrillio. Carrillio had gotten in touch with Williams after the event, and asked Williams to train him. The rest was history, "Golden Leg" went on to win six belts in three different divisions.
"We started right here in my backyard," Williams said looking at where everything started. "We were just two guys chasing the same dream."
William's back yard now has an outdoor gym fitted with punching bags, a boxing ring, some weight lifting equipment, and mats. Along with Carrillio, William's trained Clifford Larson who went on to win five titles.
Larson has since started his own gym in Camp Verde, and his students have seen success recently in national tournaments.
"Cobra Jet" had his success as a fighter too, bringing home a U.S. Junior Welterweight Title in 1997 by a spinning back kick in the 7th round. Williams remembered training in the river and in sandbanks, fighting the current and the rocks while still hitting mits with his trainer.
As Williams flipped through the pages of his scrapbooks, he came across an old newspaper clipping that reminded him of one of the crazier trips that he had taken a group of fighters on. They were traveling to a tournament in Orlando, Florida and had to venture through the winds and rain of Hurricane Charley.
The Golden Cobra fighters had to borrow equipment from other gyms just to compete because theirs had been lost during the craziness of the storm. The trip was worth it as two of the fighters came home with North American titles.
Throughout his years in the Verde Valley Williams has helped out numerous people in different ways, from training fighters, to helping kids find a positive outlet, and helping with numerous fund raisers, events and parades.
Now as Williams continues to the next chapter of his life, he said it's time to spend more time with his family. A father of three daughters, one son and a grandfather to seven, Richard "Cobra Jet" Williams will have plenty of time to see them grow as he chases a dream, that he deserves.
-- Follow Greg Macafee on Twitter @greg_macafee and Instagram @VerdeValleyNews
More like this story