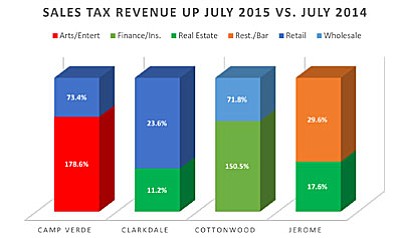 Originally Published: September 1, 2015 1:02 p.m.
July 2015 brought good news for the Verde Valley's economy.
Based on initial figures from the Arizona Department of Revenue sales tax revenue report, overall collections have increased in July 2015 compared to July 2014.
What went up, what went down
Particularly strong were the restaurant and bar as well as accommodations and services industries.
Real estate and retail collections were also up in most area towns and cities.
Tempered with these gains was an overall softening in the fields of construction, manufacturing and wholesale trade this July. Some finance directors feel this is seasonally-related.
Camp Verde
Camp Verde sales tax revenue this year is up 23 percent, going from $232,394 last year to $285,879 this year in the month of July.
"The category numbers will change somewhat. It is another strong sales tax month, fourth in a row, and it is approximately $35,000 over budget in total for July," said Mike Showers, finance director, Town of Camp Verde.
Once again, Camp Verde surged ahead of neighboring communities in arts and entertainment (up 178.6 percent) and retail sales (up 73.4 percent) compared to this time last year.
Hospitality-based industries continue to snare a lion's share of sales tax revenue in July, with $91,837 collected from arts and entertainment, restaurants and bars and accommodations.
Clarkdale
Clarkdale reflected trends similar to other Verde Valley communities in July.
"Revenue is slightly less than last year at this time in the construction group, but slightly higher than last year in the restaurant and bar group," said Kathy Bainbridge, finance director, Town of Clarkdale.
Gains were also seen in retail (up 23.6 percent) and real estate (up 11.2 percent) compared to last July.
Total sales tax revenue was $75,646, according to the latest State of Arizona revenue report.
Cottonwood
Rudy Rodriguez, Cottonwood administrative services general manager, is cautiously optimistic about the July numbers.
"From my experience, the first numbers of the fiscal year are traditionally way too low or too high to determine a trend. I usually wait a minimum of three months before I start talking any real trends," said Rodriguez.
Tax collections rose from $997,032 in July 2014 to $1,099,440 in July 2015.
"Overall, a 10.27 percent increase is by no means a bad increase, but I would not bet on that being the case throughout the year," Rodriguez said.
"There seems to be a little less local construction activity than last year; however, there is a multi-million dollar housing project starting-up soon. The Highlands Square Senior Living Project will make a big difference in our construction sales tax for a while, as well as our long-term retail base, as the 60 units are filled with residents," said Rodriguez.
"We are also expecting Affinity RV to break ground in the near future," Rodriguez added.
The biggest gainer for Cottonwood in July was finance and insurance, up 150.5 percent from last year's collections.
Retail creeped-up 15.7 percent compared to last year at this time, and Cottonwood bucked the trend of other Verde Valley communities by posting a strong wholesale gain of 71.8 percent for July 2015.
As with other Verde Valley communities, Cottonwood saw in increase in restaurant and bar tax collections, up 11.4 percent compared to July 2014.
Jerome
Jerome followed the trend of a soft construction and manufacturing month in July but a strengthening hospitality industry.
Restaurant and bar tax collections were up 29.6 percent in July compared to last year.
This comes on the heels of a one percent tax hike for these services in mid-July.
Also posting a gain was real estate, up 17.6 percent from last year.
A bright future ahead?
"Retail continues to be very strong as we continue to be the commercial hub for the Verde Valley," said Rodriguez.
"We also like to see increases in our restaurant and bars, as well as accommodations," said Rodriguez. "That just tells us that people are visiting Cottonwood and this is good for the entire Verde Valley."
More like this story