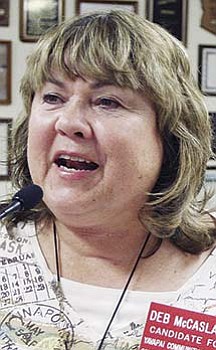 Originally Published: September 1, 2015 12:58 p.m.
PRESCOTT - Is the board keeping in touch with its communities? What's lacking in this communication and how can it be improved?
These were some of the major questions the Yavapai College District Governing Board members discussed Monday, Aug. 31, during their annual retreat.
Following discussion on this matter, the board was able to come up with a one-page summary of some of the key points they wish to focus on going into the future.
Accessibility topped the list. The board members agreed there must be greater accessibility for those people living in more remote areas of Yavapai County.
Part of this ties into online programs Yavapai College wishes to make more accessible to the population it serves.
To do this, there must be the infrastructure that will provide the necessary broadband, Board Member Albert Filardo said.
"I think the college can help by its executives speaking to council members of municipalities, saying 'you guys need to fund this,'" Filardo said. "We can deliver [online programs] provided the broadband is there."
Filardo said the amount of money needed to establish this infrastructure in lacking areas is about $27 million and that town councils are aware the infrastructure is needed, but none have volunteered to foot part of the bill.
"It's an opportunity; and as a college, we might want to make more noise," Filardo said.
Another topic, which Board Member Deb McCasland brought up, is the decline in the college's enrollment in recent years.
"We've lost over 2,000 students in the last five years," McCasland said. "We need to get more students back in."
Yavapai College's vice president of Finance and Administrative Services, Dr. Clint Ewell, clarified the loss of students, saying that it is a reduced number of full-credit students.
"At the same time, we've had a large growth in non-credit students," Ewell said.
The growth in non-credit students has been mostly in the retirement crowd and less in the workforce crowd of 18- to 55-year-olds, Ewell added.
In recent board meetings, representatives of the college have partly attributed the trending decline in enrollment to the end of the recession, stating that more people chose to attend higher education while the job market was in a slump.
During the board's Aug. 10 meeting, members voted unanimously to continue the existence of the Verde Valley Board Advisory Committee (VVBAC), now that it has completed its task of submitting recommendations on how to better serve the Verde Valley community, to continue the outreach and flow of information.
Board Chair Dr. Patricia McCarver had stated the committee's role would be further discussed during the Aug. 31 retreat and perhaps a decision would be made concerning its role.
However, that discussion was not a significant part of the meeting and no decision was made.
Much of the rest of the retreat was devoted to discussing the board's "ends statements" or goals. The board voted unanimously (5-0) to accept changes to the wording, including:
• Ends: Yavapai College exists so communities within Yavapai County have access to and are equipped with the knowledge and skills to create a sustainable economic environment.
The college will achieve these results at a justifiable cost.
The following ends are listed in priority order.
• Education Ends: Students achieve their educational goals at an affordable price.
• Job Seekers Ends: Job seekers have the qualifications, skills, and abilities to succeed.
• Student Ends: Students seeking transfer have the qualifications, skills, and abilities for success at their next educational institution.
• Lifelong Learners Ends: Lifelong learners have access to a variety of learning opportunities.
• Economic Ends: Communities in Yavapai County are supported in their efforts to lead economic development, with an emphasis on generating and sustaining economic base jobs.
• Community Ends: Yavapai County residents have access to social and cultural opportunities.
The board met again Tuesday on the Verde Valley Campus in Clarkdale.
Follow Max Efrein on Twitter @mefrein.
More like this story