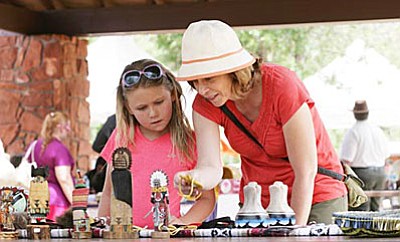 Originally Published: September 15, 2015 12:22 p.m.
SEDONA - After the success of last year's inaugural Yavapai-Apache Nation Cultural Awareness Day, the event returns again Saturday, Sept. 19 between 10:30 a.m. and 4 p.m. at Red Rock State Park in Sedona.
The event is an opportunity for the public at-large to share with the Nation in traditional song, dance, food and crafts.
Last year's event drew some 400 attendees.
Both unique cultures bring their own particular heritage to this celebration of enduring life and traditions.
While sharing a common bond through their forced relocation in 1875, each tribe has its own ceremonies and language: Apache (or "Dil'zhe'e," the hunters) and Yavapai (or 'Wipuhk'a'bah', people of the sun).
Yavapai Gourd Singers and Bird Dancers will perform in the morning. The songs and dances are said to be associated with the different seasons and travels of life, with the gourds being an integral part of the bird dance.
Apache Crown Dancers will perform in the afternoon. It is said the dance came from mountain spirits to promote healing, with a dancer for each of the four sacred direction as well as a clown to drive away evil spirits.
Visitors will also have the opportunity to enjoy culturally-important foods such as frybread, as well as other refreshments.
Those wishing to bring home a bit of Native American culture will have an opportunity to purchase items from arts and craft vendors.
As part of its cultural outreach, the Yavapai-Apache Nation plans to exhibit a traditional Wikkiup dwelling and perform a corn grinding demonstration.
The present-day Yavapai-Apache Nation includes about 1,800 acres from Camp Verde to Clarkdale and enrolls 2,440 tribal members. Its various enterprises make it one of the largest employers in the Verde Valley.
Visitors are encouraged to bring blankets and lawn chairs for seating, as well as cash for dancer donations and vendor items. No pets are allowed and no photos are to be taken of the Crown Dance performance. Parking is limited.
With applicable identification, the City of Sedona will sponsor free admission to the park for Sedona residents.
10:30 a.m. -
Welcome from Red Rock State Park
10:35 p.m. -
Opening prayer
10:45 a.m. -
Welcome from Gertrude Smith, Yavapai Cultural Director
11 a.m. -
Gourd Singers and Bird Dancers
Noon -
Miss Yavapai-Apache
12:15 p.m. -
Children's game of musical chairs
1 p.m. -
Introduction to the significance and meaning of the Crown Dancers followed by performance (no photos are to be taken)
2:15 p.m. -
Closing prayer
2:30 p.m. -
Closing comments
4 p.m. -
End of event