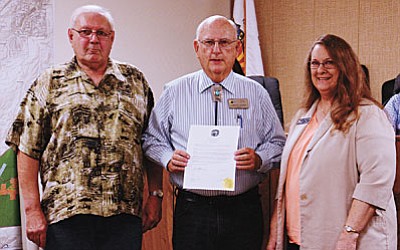 Originally Published: September 26, 2015 1:22 p.m.
CAMP VERDE - The mayor of Cottonwood, Diane Joens, attended the Camp Verde Town Council meeting on Wednesday, Sept. 23. She shook Camp Verde Mayor Charlie German's hand and accepted a proclamation that supports the Verde Valley Military Service Park. She was accompanied by Camp Verde resident David Boily, who is spearheading this operation.
Boily said he plans to spend time at Fort Verde Days advertising the park. To have a name put on the walls at the park, the person being honored needs to be connected to the Verde Valley in some way, as well as pay a $75 fee.
Garrison Park in Cottonwood will be the home of the Verde Valley Military Service Park.
Council also approved the demolition of a dangerous building in Verde Lakes. Town Manager Russ Martin, said the vacated residence will be destroyed by Jan. 2 if the owner doesn't remove it from the property.
If the owner doesn't remove the building, the Town of Camp Verde will put a lean on his property.
The owner will then be required to make payments to the Town to pay off the debt.
According to Martin, the owner never got a permit to have the building on the property, so it is there illegally. The Town received complaints from the neighborhood about the building on the property. Also Wednesday, council voted to add the Mental Health Coalition Verde Valley to its list of things they look over.
Council member Brad Gordon was appointed representative of this coalition. The next town council meeting will be Wednesday, Oct. 7 at 6:30 p.m. It will be held in council chambers, located at 473 S. Main St., suite 106 in Camp Verde.
-Follow Aryssa Carvalho on Twitter @aryssamashon and on Facebook.com/cvbugle