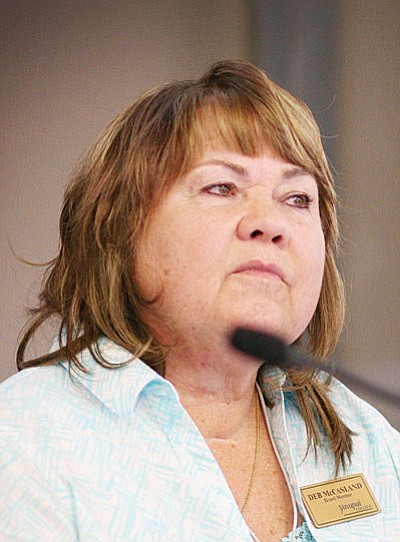 Originally Published: April 9, 2016 11:02 a.m.
For Deb McCasland, the highlight of her first 18 months on Yavapai College's District 2 Governing Board was presenting diplomas to graduating students.
"Watching the students stand tall and proud of their accomplishments, hearing their families and friends cheer for them, and shaking their hands as I handed them their certificate or diploma cover was an amazing experience," McCasland said. "Each of these students set a goal and through much hard work, they were able to achieve their educational goal or an important step toward their ultimate goal."
Monday was the first day that anyone interested in serving on a local school board could declare candidacy. Not only does McCasland want to keep her seat - the board's sole opening, she also has plans for her first full six-year term alongside fellow board members Al Filardo, Steve Irwin, Ray Sigafoos and board president and spokesperson Patricia McCarver.
With recent talks about a possible separate Verde Valley administrative college tabled by the board collectively - though not unanimously, McCasland said that the animated, active debate "is a tool for a board to arrive at the best educational outcomes" for both ends of Yavapai County.
The board's primary goals, said board president McCarver, "are to deliver high quality education, support economic development, and provide cultural opportunities for the citizens of Yavapai County." But McCasland's "ultimate goal is a 5-0 vote on projects and proposals that support Verde Valley educational needs."
If she is re-elected, McCasland said she hopes "to slow down the Capital Improvement plan to focus on educational necessities and not costly nice-to-have projects."
McCasland also said she would like to see the board achieve the following:
-Prioritize county-wide access to state-of-the art distance learning delivery systems.
"Access to post-secondary education in the primarily rural Verde Valley communities will be best provided through a modified de-centralized model," she said. "In addition to the main campuses in the more concentrated population areas, a system of remote learning centers utilizing spaces in community centers, educational institutions, and governmental facilities will address access challenges resulting from limited public transportation availability and minimum class size requirements."
-Listen and respond to community-wide input.
"I will always ask questions and delve deep into the proposals submitted to the board," McCasland said. "I spend many hours preparing for our meetings, reading all the materials and formulating questions for further information. I will continue to seek out opportunities to gather input from our 'owners' and reflect their comments in the board meetings."
To be nominated to a school district governing board, a candidate must be a registered voter of the state and have been a resident of the school district for at least one year immediately preceding the day of election, according to the Yavapai County Education Service Agency.
Deadline for filing candidacy papers to run for a school board opening is 5 p.m. Wednesday, Aug. 10. The election will take place on Aug. 30.
Papers need to be filed with the Office of the Yavapai County School Superintendent, located at 2970 Centerpointe East Drive in Prescott, AZ 86301.
Paperwork must be filled out correctly. Candidates must file all required documents on time or their names will not appear on the ballot.
Visit www.ycesa.com or call 928-771-3326.
-- Follow Bill Helm on Twitter @BillHelm42 and on Facebook at @CampVerdeBugle