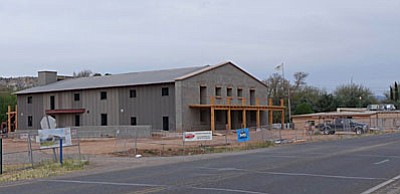 Originally Published: April 12, 2016 4:40 p.m.
April 10-16 is National Library Week and Volunteer Appreciation Week. This week, Camp Verde Community Library joins libraries across America in celebrating the dynamic changes happening in today's libraries.
Libraries today are more about what they do, for and with the people who use the library rather than what they have for patrons. Libraries not only provide a place to read and study, but are also creative and engaging community centers where people get assistance with new technologies, collaborate on projects, attend programs or just come to socialize.
Did you know our library offers access to a variety of print and digital resources many of which can be accessed online with your library card? To name a few, we have magazines & newspapers, large print books, pre-loaded audiobooks, audio & e-books from Overdrive, downloadable music and movies from Freegal, access to interactive online encyclopedias, genealogy databases, live homework help, and much more - all free with your library card!
Libraries of all types are evolving to meet the needs of the communities they serve. At Camp Verde Community Library we are transforming by
. collaborating with our Economic Development department, ASU, CVUSD and local business leaders to bring educational and entrepreneurial opportunities to Camp Verde;
. participating with the Yavapai Apache Nation and the Camp Verde Marshal's office and Yavapai County Sheriff's office to bring anti-cyber bullying training to middle school students;
. bringing a series of professional training and informational workshops on autism to the community along with books, movies and tools to support families facing autism
. partnering with our Parks & Recreation department to bring leisure, social and educational opportunities to people of all ages;
. bringing high speed Internet to our area with free Wi-Fi access 24/7;
. expanding early literacy services to our Spanish-speaking community through partnerships with Head Start and First Things First;
. supporting innovation and imagination through STEM programming at the library and by our participation in SciTech
. bringing the Discover NASA: From Our Town to Outer Space exhibit to Camp Verde
. providing activities for local teems through Saturday evening Teens Live programming
. creating more space for people, programs and possibilities with our new facility
Libraries are many things to many people. We work with elected officials, small business owners, schools, Town officials, students and the public at large to discover and address the needs of our community. Whether offering e-books and technology, help for job-seekers, afterschool programs for kids or being a safe haven in time of crisis, libraries, librarians and library volunteers listen to the community they serve and respond by transforming themselves and their services.
Service to the community has always been the focus of the library. Libraries level the playing field for people of any age who are seeking the information and access to technologies that will improve their quality of life. We have a lot of things going on for a variety of ages this week. Join the writers' Writing for Fun on Monday, get in-depth help with a PC or tablet on Tuesday, come to story time or SPHERO Club on Wednesday, play games on Thursday, participate in STEAM Time on Friday, learn about sprouting on Saturday, checkout a book or movie any day. Take a look at www.cvlibrary.org for more details.
It is fitting that National Library Week and Volunteer Appreciation Week celebrations coincide as we take tome to recognize the changing role of libraries, librarians and library volunteers. At Camp Verde Community Library, we wouldn't be able to do what we do or provide as many open hours if we didn't have volunteers taking care of many of our routine tasks. They work hard, performing a variety of mentally and physically demanding tasks that keep the library in order every day. Camp Verde Community Library volunteers deserve our appreciation.
The American Library Association began sponsoring National Library Week in 1958 to highlight the contributions of libraries and librarians and to promote library use and support. Celebrate National Library Week with us by stopping by and thanking our amazing volunteers, partake of a sweet treat, then stay awhile and chat with a librarian. Share your ideas about what we can do to for our community.