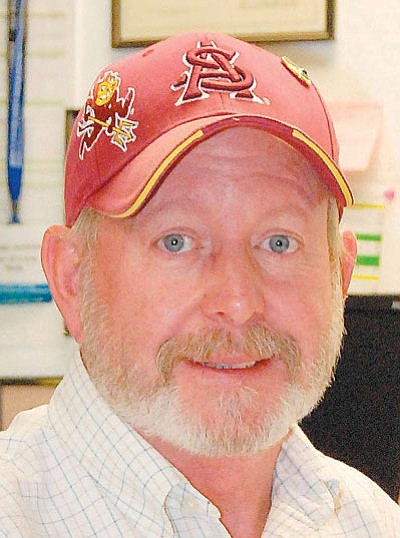 Originally Published: April 23, 2016 1:03 p.m.
CAMP VERDE - Community Development Director Mike Jenkins announced his retirement effective December this year during an April 22 Town of Camp Verde council budget work session.
"By Christmas, he'll be making plans for his fishing vacation," said Town Manager Russ Martin. "It's a transitional issue and not a cheap transitional issue."
Martin hopes to bring someone aboard by July to begin the process of orientation and training of his successor.
The duties of Community Development Director are extensive. Responsibilities include overseeing Planning and Zoning, Building, Code Enforcement, The Board of Adjustment and Appeals and the Planning and Zoning Commission. Additional responsibilities include providing technical information to the town council and the town manager.
Jenkins is a nine-year veteran of the Town of Camp Verde. He previously worked for Holbrook and Navaho County, as well as having many years of experience in private surveying. He will come full circle upon retirement.
"I'm going to finish our house in Holbrook," said Jenkins. "It's about 80 percent remodeled. And I've also got a list of 'honey-dos.'"
Jenkins was first hired as a planner when the office was staffed with nine workers, processing about 70 to 80 building permits monthly. At that time, Arizona construction was at the tail-end of a boom. Soon after his arrival, the boom turned to bust. His office busied itself with remodeling permits as the office staff dwindled in half.
But that may be changing. While an average of 30 permits were issued monthly last year, a renewed interest by builders is expected to significantly increase permit applications in Camp Verde without an equivalent increase in staffing.
"We've got Simonton Ranch plus two subs, we've got O'Reilly's, Circle K and several others coming at us," Jenkins said.
When asked what the biggest change has been in his job over the years, the answer has less to do with construction and more to do with legalities.
"It's the ever changing laws," said Jenkins. "From the State, from the Supreme Court, from Planning and Zoning. And it's impacting our citizens."
In fact, a vetoed request for an increase in attorney fees in this year's budget "was the only line item we aren't in agreement with the town manager," he said.
"I'm going to keep up with Kendal (Welch, assistant planner) so she won't be run over with a lot of work. Things are on the rise," said Jenkins.