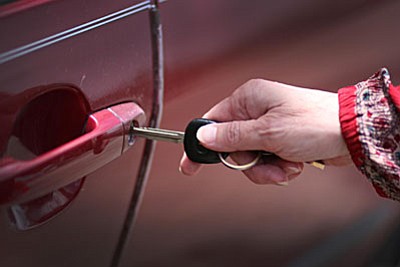 Originally Published: April 30, 2016 3:01 p.m.
CAMP VERDE - On Jan. 14, Camp Verde Marshal's deputies responded to an armed robbery at the Chase Bank on Finnie Flat Road.
Today, CVMO is not much closer to finding the suspect, believed to be a Caucasian male in his early- to mid-20s, standing 5 feet 10 inches tall and weighing approximately 120 pounds.
"We're following up on a couple of leads," said Camp Verde Marshal Nancy Gardner. "Looking for links to other similar crimes. But we have nothing solid at this time."
Since the robbery, the Camp Verde Marshal's Office has been working in partnership with the FBI, as well as sharing information with other law enforcement agencies on incidents they believe to be similar, Gardner also said.
"We're looking for similar behaviors and activities," Marshal Gardner said. "But we have to be patient. Just because we haven't any solid leads right now doesn't mean we won't get any."
The Chase bank robbery is the only high-profile unsolved case the Camp Verde Marshal's Office is currently investigating. But deputies are still looking into six robberies that happened 2015. Says Commander Jacqui MacConnell, this lack of unsolved cases "speaks volumes not only for the [bureau's] ability to solve crimes, but also speaks to the town of Camp Verde and how safe of a town it is."
Lock your doors
The Cliffs/The Views was the location of three vehicular burglaries in September 2015. Said MacConnell, each of the three vehicles were easy targets for crime.
"People failed to lock their car doors," MacConnell said. "They were opportunities of crime. Though nothing taken was of significant value."
In February 2015 there was a vehicular burglary on Horseshoe Bend, also involved an unlocked car, but this time the owner "had a lot of stuff in the car," MacConnell said.
Items stolen in that burglary include a sewing machine, sewing accessories, carrying case, camera, fabric, a gift card and cash.
"Another crime of opportunity," MacConnell said. "Because Camp Verde is such a safe town, sometimes feeling safe means people become vulnerable because they do not take precautions."
Getting into business
One night in April 2015, both Camp Verde Feeds and Joshua Tree & Landscape were robbed - collectively to the tune of about $2,000. Some people may think the losses could be written off, MacConnell said, "but it's still a significant loss."
"You're impacting hard-working Camp Verde residents," MacConnell says. "They're just trying to provide for their families."
Semantics
Is there a difference between a 'cold case' and an 'unsolved crime'? Or is it a matter of semantics? According to Marshal Gardner, it's the difference between crimes against people versus crimes against their belongings.
Cold cases are typically homicides, missing persons, serial crimes such as murder or rape, crimes Marshal Gardner said that deputies "try to work all the time."
"Cold cases do not have a statute of limitations requirement. They are not closed," Marshal Gardner said. "They're one your desk, and you are hoping each day that you can solve them."
-- Follow Bill Helm on Twitter @BillHelm42 and on Facebook at @CampVerdeBugle