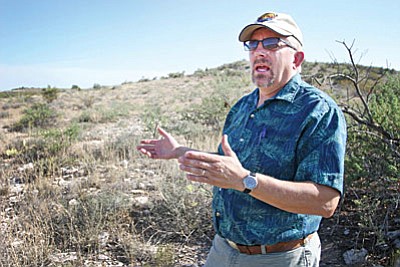 Originally Published: August 2, 2016 3:01 p.m.
CAMP VERDE - Arizona State Parks has awarded a $78,248 grant to the Town of Camp Verde Parks & Recreation for the construction of a trail at the Town's 114-acre property off SR 260 behind the Verde Ranger Station.
The receipt of the competitive grant is not official until the Camp Verde Town Council votes to approve a resolution to enter into a project agreement. According to Camp Verde Town Manager Russ Martin, council is scheduled to consider the resolution at its Aug. 17 regular session.
Both the grant and the subsequent trail are "an awesome opportunity," Martin said. "Then we could really focus on building the park."
According to Mike Marshall, Parks and Recreation Division Manager for the Town of Camp Verde, the grant would be used to construct a 6-feet wide, aggregate base surfaced, multi-use, non-motorized, 1.65 mile trail around the perimeter of the property.
The trail would also include regulatory and information signs, port-a-jon shade ramada and other associated support facilities.
If the project agreement is approved, the Town would be using approved fiscal year 2015-2016 Capital Improvement Project funding, Public Works staff and equipment to meet the Town's funding match requirements.
The Town would also construct an access road into the park and trailhead parking area, which would include space for equestrian trailer parking.
Park Master Plan
The trail would be a component of a Park Master Plan, which would be "laid out to maintain easy grades and reduce erosion as well as ensure a buffer near the two residential areas bordering the park," Marshall said.
Open to hikers, bicyclists and horseback riders the trail will allow people to exercise, enjoy the views and "eventually be a portion of the circulation plan within the park," Marshall said.
Construction of both the trail and access road would follow the grading, drainage and infrastructure plan. According to Marshall, terms of the grant require that the project be completed within three years, though "hopes are that construction can start in the spring of 2017."
What's next?
Since the Town of Camp Verde purchased 114 acres along SR 260 east of the Verde Ranger Station from the U.S. Forest Service in 2008, plans for a sports complex have been made - then cancelled as a result of the country's economic downturn.
Grading, drainage and infrastructure plans are currently under development, as the Parks and Recreation Department looks forward to that complex becoming a reality, Marshall said.