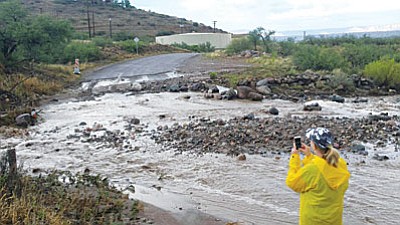 Originally Published: August 2, 2016 2:46 p.m.
VERDE VALLEY -- Yes, it was wet Sunday. After months of basically bone-dry weather, the area is finally getting the summer monsoon showers
The National Weather Service in Flagstaff reports that the estimated rainfall through 7 p.m. Sunday for Yavapai and southern Coconino counties indicated very heavy rain of 1-2-plus inches including north of Sedona, Camp Verde Cottonwood and Clarkdale, and the Paulden area.
The Weather Underground locally-based spotters showed some of the heaviest rain over the Clarkdale Foothills, with one spotter logging two and one-third inches Sunday with a three day weekend total of four and a quarter inches.
The weather service predicts rainfall throughout this week.
More like this story