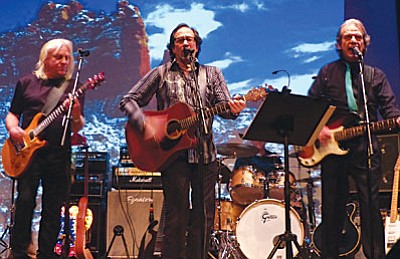 Originally Published: August 16, 2016 2:37 p.m.
Green Light Plays Farmer's Market Jamboree in Cottonwood
If you live in Cottonwood Arizona or are visiting Thursday, Aug 18, you are in for a special treat as Green Light, a five-piece original classic-rock band from Sedona, takes the stage at the city's Farmer's Market Jamboree, starting 5 p.m. and rocking until dark.
Old Town Cottonwood has become an international destination point ranking right up there with Sedona as one of the places one must visit when visiting Arizona.
The Farmer's Market Jamboree is just one of the many events Cottonwood is known for and this one is real special with Green Light promising to rock the day into the night with original tunes people love from the moment they hear them.
Featuring Robin Miller on lead guitar; J.R. Robusto on rhythm and lead guitars; Drew Leibowitz on drums; Chicky Brooklyn on lead vocals and Tommy Acosta on bass, this band puts on show that gets people clapping, singing, up and dancing.
Songwriters Acosta and Brooklyn have written tunes that are chock-full of three and four-part harmonies with space for extended lead guitar riffs and improvisations that mesmerize.
And the beat is thick and danceable, a combination that makes the songs even more solid.
"We're looking forward to our gig at the Farmer's Market Jamboree," Chicky said. "We really like playing in Cottonwood, especially during the day when people that don't go out at night and their kids can see the band live."
Make it point to visit the Farmer's Market Jamboree this week and catch this sensational band of seasoned musicians put on a show you will not soon forget.
Visit greelightrocks.com to learn more. Call 928-639-3200 for more info.
Ministry Fair at Canyon Bible Church of Verde Valley
Every growing Christian worships Jesus, walks with Jesus, works for Jesus and witnesses about Jesus!
Sunday August 21, Canyon Bible Church of Verde Valley will host a "Ministry Fair."  The Ministry Fair at Canyon Bible is your opportunity to sign up for small group ministry, meet our ministry leaders and find out how you can serve at Canyon Bible Church.  On Sunday August 21st, we will be setting up tables in the lobby for every ministry area at Canyon Verde so you can get involved at Canyon Verde.
Canyon Bible Church was established in Verde Valley in December of 2014.  CBCVV was started by Canyon Bible Church of Prescott Valley and is part of the Canyon Bible Fellowship.  Pastor Mark Stafford has been serving in the ministry for nearly 2 decades and he is currently leading CBCVV.  He is a graduate of Arizona Christian University and a long-time resident of Northern Arizona
Canyon Bible Church meets every Sunday morning at 9:30am at the Cottonwood Rec Center (150 S 6th St, Cottonwood, AZ 86326). Find out more by calling 928-634-1908 or by visiting www.canyonverde.org
AZ 260 highway cleanup planned Aug. 20
The Verde Village Property Owners Association will be doing their quarterly highway 260 cleanup on August 20 starting at 7 a.m.. They will meet at the One in Christ Church parking lot. The highway department supplies bags and vests. The VVPOA supplies grabbers and nail sticks. Each volunteer should wear long sleeved shirts (some of the vegetation isn't very friendly), gloves and bring water. Come join your neighbors and help keep Arizona beautiful. If you have any questions please call Mal at 928-634-9785.
Camp Verde Coffee with a Cop
Join the neighbors and the local police officers for coffee and conversation Aug. 29. No agendas or speeches, just a chance to ask questions, voice concerns and get to know the officers in Camp Verde. Coffee with a Cop is from 8 a.m. until 9 a.m. the last Monday of each month at Thanks a Latte, located at 348 S. Main St. Camp Verde. Sponsored by the Camp Verde Marshal's Office.
Call to local authors
The Cottonwood Public Library is looking for local published authors to participate in the 2016 Cottonwood Book Fair. The event will be held on Saturday, October 29th from 10 a.m. to 2 p.m. in the Gyberg building at the Verde Valley Fairgrounds in Cottonwood.
The Book Fair will bring together local authors who will be selling and signing their books. There will also be a short introductory presentation by keynote speaker Val Chanda, a retired Creative Writing teacher from Yavapai College and published author of the Psy Mind and Zorn and Grayall series.
The first book of the latter series, Zorn and Grayall Find Murder by the Way, was nominated as a finalist for the 2015 New Mexico-Arizona Book Awards.
Please contact Kyle Smith at 928-340-2782 or ksmith@cottonwoodaz.gov to register. There is a $25 registration fee and table reservations will not be confirmed until payment is received. Checks can be mailed to attn.: Kyle Smith, 100 S 6th St, Cottowood, AZ 86326 with "Book Fair" on the memo line. Cash or checks can also be dropped off at the library. The deadline to register is Monday, Sept. 12.
Survivors of Suicide Support Group meets Aug. 30
Survivors of Suicide Support Group for those who have lost a loved one to suicide. 6:30-8:30 p.m. Christ Lutheran Church, 25 Chapel Road, Sedona. Group meets last Tuesday of each month. The group will meet again Aug. 30.
For more information call Barbara Litrell @928-649-0135
Mental Health Summit meet Aug. 26
Mental Health Summit 2016: Latest Truths and Treatments: What you need to know about the debate surrounding the long term use of psychiatric drugs and what are the new directions in treatment of mental illness. Keynote Speakers - Robert Whitaker, Author, Mad in America and Dr. Grace Jackson, Psychiatrist and Author of Rethinking Psychiatric Drugs. Plus 2 amazing panels -- Lori Morrison, Laura Delano and Cathy Penney sharing their stories of recovery and Suzanne Connolly, Jana Shiloh, Dr. Courtney Keckich, Jeff Masters and Kermit Cole sharing innovative, complementary treatments. Aug. 26 8:30-3:30 at Cliff Castle Casino Conference Center. $25 includes lunch. Organized by the Mental Health Coalition Verde Valley. Register online at  www.brownpapertickets.com/event/2568085 or contact Barbara Litrell 640-0135 or blitrell@aol.com
Summer Craft Fair Aug. 20
There will be a Summer Craft Fair at the Verde Valley Senior Center Saturday, August 20, 9 a.m. - 3 p.m., 500 E. Cherry St., Cottonwood (Corner of E. Cherry & 6th St.)
Come early for the best selection of homemade, one-of-a-kind items and gifts for any occasion! Don't forget to stop by the snack bar for doughnuts & Coffee in the morning & lunch in the afternoon. For more information contact: Mary Nordstrom at 567-6951 or Elaine Bremner at 634-5450 (email vvseniorcenter.events@gmail.com).
Learn coding at Cottonwood Public Library
As technology seems to be advancing at an exponential rate these days it can be hard to keep up. Most kids can use tablets and smart phones to play games and surf the internet before they can even walk, and now they are starting to learn to make their own games and websites through coding. Every application you use on your computer or mobile device, including Facebook, your internet browser and the operating system itself, is made with coding.
It is the language of the digital world. Information technology is one of the fastest growing job markets in the country and most IT jobs will probably involve knowledge of some form of coding. If you would like to learn more about some of the resources available to learn coding consider joining the Code Club at the Cottonwood Public Library.
The club is for ages 11 and up and meets very fourth Saturday of the month from 10:30 a.m. to 1:30 p.m. No signups are needed and no prior coding is required. The Code Club is not just for kids, adults are welcome as well. The library is located at 100 S 6th St in Cottonwood.
Faith Baptist Church sock drive
Do you have a sock drawer at home? The homeless don't. Please donate new men's, women's and children's socks for the homeless and needy. Black cotton crew socks are preferred. All socks will be distributed to those in need through the Old Town Mission in Cottonwood. Drop off point is each Sunday in August, 9 a.m. to 12:30 p.m., at Faith Baptist Church, 2650 S. Union Drive (Western Drive and SR 260) in Verde Village. For more information, call 928-274-0314.
PTSD Group meets at Library
This group is for anyone who suffers from anxiety and other emotional problems due to childhood and/or adult onset of Complex/Post Traumatic Stress (PTSD). People who are actively striving to recover with individual counseling and who want a peer support group are welcome. 
The meetup will study the work of Pete Walker's book, "Complex PTSD: From Surviving to Thriving" as a basis to discuss a topic each time we meet. Everyone needs to get the book on Amazon in order to participate.  Plus, we'll share other healing modalities like EFT (tapping), NADA (PTSD acupuncture protocol), TRE (trauma release exercises), supplements that help and more.
The group will be meeting at the Cottonwood Public Library on Thursday, Aug. 18, noon to 1:30 p.m. The library is located at 100 S 6th St in Cottonwood.
Michigan Friends in Arizona Potluck planned Aug. 25
Michigan Friends in Arizona will hold a potluck lunch from 11:30 a.m. until 2:30 p.m. Thursday, Aug. 25, 2016 at the Camp Verde home of Michigan/Arizona residents Dennis and Cheryl Cassady. Their address and directions will be emailed after you contact them. Former Michigan residents or current/seasonal residents from Michigan and guests are invited to attend. Please bring a potluck dish and your favorite beverages and enjoy the company of other Michi-Zonans. Asking for $2.00 per person to help cover game prizes, paper products, ice and water. RSVP by Aug. 21 with your name(s), address, email, phone number and city/cities where you lived in Michigan to michigan2arizona@cox.net, Cheryl Cassady, Michigan Friends in Sun City Club President. For more information, call/text Cheryl 623 910.1522 or Dennis 623 910.2240.
Also, a Michigan Friends group in mid-Arizona is forming if there is interest; email Cheryl; michigan2arizona@cox.net.
Damage Prevention & Safety Seminars
Damage Prevention & Safety Seminars are free. All contractor and utility excavation personnel, safety managers, trainers, foremen and supervisors working in the private or public sector in Arizona are welcome and encouraged to attend. These seminars provide important information to prevent serious injuries and protect the utilities we all rely on every day. Speakers include representatives from Arizona 811 (formerly Arizona Blue Stake), utility owners/operators including natural gas transmission and distribution, electricity and communications; the Arizona Corporation Commission; and the Arizona Utility Contractors Association (AZUCA).
Check-in for this seminar will begin at 5:30 p.m. and the program will begin promptly at 6 p.m.
Complimentary dinner is included.
Program duration is 2.5-3 hours.
Seating is first-come, first-served. Parties who want to sit together should arrive early.
Please adhere to the following:
Because of space limitations, and so we can plan for meals, pre-registration is required.
Attendees must register at least one week prior to the seminar date. If registration is full, a waiting list will be created and individuals will be contacted in the order they were placed on the waiting list. Unfortunately we cannot accommodate walk-in attendees!
Companies and local governments are welcome to send multiple attendees. However, a registration form must be completed for each individual who is attending.
Attendees are expected to honor their RSVP. Substitutions can be made at any time.NOTE:This is a free event; however individuals who RSVP and fail to show up without canceling at least 72 hours in advance will be billed $30 to cover the costs of pre-paid meals and training expenses. If you RSVP but cannot attend, please cancel your reservation at least 72 hours in advance or designate a substitute attendee from the excavation industry!
For the benefit of all seminar participants, professional and courteous behavior is expected at all times. Alcohol is not served or permitted at Damage Prevention & Safety Seminars. At their discretion, organizers reserve the right to refuse entry and/or continued participation to any individual who is disruptive.
As a courtesy to other attendees, please put mobile devices on vibrate or silent mode when the program begins. If you must take or make a call, kindly do so outside of the training room.
If you have questions, please contact:
Sunita Rowe, Public Services Liaison
Arizona 811 (formerly Arizona Blue Stake)
Sunita.Rowe@Arizona811.com or (602) 659-7508
WHEN
Wednesday, September 14, 2016 from 6:00 PM to 9:00 PM (MST) - Add to Calendar
WHERE
Cliff Castle Casino Hotel - 555 W. Middle Verde Road, Camp Verde
Traditional stone bead manufacturing and beadwork demonstrations 
Several programs are scheduled at Montezuma Castle National Monument in commemoration of the National Park Service celebrating its 100th anniversary.  From Aug. 25-28, the 421 national parks, monuments and historic sites across the United States will be fee-free in honor of the NPS Centennial.
The continuing legacy of Native arts and crafts will be demonstrated Aug. 25 from 10 a.m. to 2 p.m.   NPS employees and volunteers will showcase the multifaceted process of fashioning stone disc beads and beadwork. Also on display will be a selection of traditional playthings, basketry and artifacts created from plant materials found in northern Arizona.  
Zachary Curcija of Phoenix, who received his Master's degree in anthropology from Northern Arizona University, will demonstrate the complex steps in manufacturing prehistoric-style Southwestern disc beads.  Mr. Curcija specializes in argillite bead production and he will also have a display of replica jewelry that would have been familiar to pre-contact residents of Northern Arizona.  His thesis research included an assessment of possible bead production techniques used at sites across the Southwest, including Tuzigoot National Monument. 
NPS employees Demetria Grant and Donald McLaughlin will explain the fabrication of the intricate beadwork that became popular when European-made glass and ceramic beads were brought to North America and introduced through trade.   This cross-cultural artistic tradition is practiced by Native American people from all areas of the country, with regional variation in styles and technique. Ms. Grant and Mr. McLaughlin studied beadwork design and fabrication at the Flandreau Indian School in South Dakota.
The Organic Act, signed by President Woodrow Wilson on Aug. 25, 1916, established the National Park Service as an agency of the U.S. Department of the Interior.  The NPS system includes 421 areas covering 84 million acres in every state, the District of Columbia, American Samoa, Guam, the Virgin Islands and Puerto Rico.  Over 20,000 National Park Service employees help create close-to-home recreational and cultural opportunities.
Montezuma Castle is located off Interstate 17, exit 289, at 2800 N. Montezuma Castle Highway. The trail is a 1/3-mile, flat, paved loop that is accessible to wheelchairs, strollers, and walkers. For additional information, call the Montezuma Castle Visitor Center at 928-567-3322, extension 0; find us on Facebook, Twitter and Instagram; or visit www.nps.gov/MOCA.
Registration begins for adult co-ed volleyball in Camp Verde
Camp Verde Parks and Recreation announces registration for its fall co-ed volleyball season. The season starts Sept. 25 in the Community Center Gym at 51 E. Hollamon Street. We are hoping for enough teams to form an A and B league this year. Games will be played Sunday afternoons through Nov. 20. Registration is $150 per team. Gather your friends, form your team and have some fun. For more information contact Shawna Figy at Camp Verde Parks and Recreation (928) 554-0829.
Camp Verde Parks and Recreation announces Friday Day Trips
The Camp Verde Parks and Recreation Department announces its next round of Friday Day Trips. Our first trip is Aug. 19 to Tonto Natural Bridge and the Pine-Strawberry Museum. Marvel at this beautiful natural bridge that has been in the making for over a thousand years. You can stand on top, hike below, or just enjoy the scenery. You can also visit the historic lodge and gift shop. Then we are off to grab some lunch and peruse the Pine-Strawberry Museum.
Prices are adults and seniors $21, children $16. The shuttle bus leaves the Community Center at 9 a.m. and returns at 4 p.m. Pre-registration is required and seating is limited.
Other trips this fall include Zane Grey Cabin and Rim Country Museum in Payson, the Grand Canyon, Flagstaff Snowbowl Skyride and the Arizona State Fair. We have also added a Sunday performance of "Little Women" at Yavapai College Performing Arts Center and a fun-filled Saturday trip to watch the NAU Lumberjacks play their homecoming football game against Idaho State. All trip participants must be 16 years old OR have a parent with them. Pre-registration is required and can be done at Camp Verde Parks and Recreation at 395 S. Main St.
For more information call Parks and Recreation at (928) 554-0829 or check out www.cvaz.org or like us on Facebook.
Aug. 27 Arizona Diamondbacks trip by Camp Verde Parks and Recreation
Watch the Diamondbacks alumni game and then watch the Arizona Diamondbacks play the Cincinnati Reds on Saturday, Aug. 27. The Diamondbacks alumni game is scheduled for 2:30 p.m. with open seating, plus the first 20,000 in the stadium get a free Diamondbacks pull-over jersey. Travel to and from the game and park just a short walk from your seat. Seats are field level with a great view. This trip leaves the Community Center at 12:30 p.m. for the games at Chase Field. Cost is $50 per person for game tickets and bus ride. Sign up by August 15 for best seats. If you miss this trip, join us for our last game this season on October 1. If you have your own tickets you can ride the bus with us for only $10. To register, bring cash or check payable to Town of Camp Verde, to the Parks and Recreation office at 395 S. Main St. For questions call Parks and Recreation (928) 554-0829.
National Park Service Centennial
The Sedona Academy of Chamber Singers will deliver a performance of patriotic and inspirational songs Thursday, August 18, 10 a.m., at Montezuma Castle National Monument.   This special event initiates a week of activities and observances in commemoration of the 2016 National Park Service Centennial.
The Chamber Singers will also be keynote performers at the August 20 commemorative "Parks in the Pines" event from 10 a.m. to 5 p.m. at the City Hall parking lot in Flagstaff, AZ.   The fee-free festival will highlight the national parks, monuments, historic sites and heritage of Arizona with information booths, activities and entertainment for the whole family.  The local choir will perform at 10:30 a.m.
The Sedona Academy of Chamber Singers, under the direction of Northern Arizona University professor Dr. Ryan Holder, was created in 2010 in celebration of the 50th anniversary of the Church of the Red Rocks in Sedona, and 25th anniversary of Rev. Dr. George Ault.  This collaboration gives voice and choral students from around the Southwest an opportunity to experience singing in a semi-professional choir.
The choir has served as vocal back-up for multi-platinum recording artist Josh Groban, and in recent years has performed for the Arizona State Music Educators convention and the Arizona Choral Directors Association Conference.
The National Park Service celebrates its 100th Anniversary in 2016. Over 20,000 National Park Service employees care for America's 408 national parks and monuments and create close-to-home recreational and cultural opportunities.  
Montezuma Castle is located off Interstate 17, exit 289, at 2800 N. Montezuma Castle Highway. The trail is a 1/3 mile flat, paved loop that is accessible to wheelchairs, strollers and walkers. Regular fees apply but there is no charge for children age 15 and under, and all Federal recreation passes are accepted. For additional information, call the Montezuma Castle Visitor Center at 928-567-3322, extension 0, or find us on Facebook, Twitter or Instagram.
Mental Health First Aid September 16
The Mental Health Coalition Verde Valley  and Spectrum Healthcare Group are offering a full-day session on Mental Health First Aid training on Friday, Sept. 16, 8 a.m. to 5 p.m. at the Verde View Senior Apartments, 377 W. Hwy 260, Camp Verde, AZ. The 8-hour training is free, open to the public, and each person receives a certificate of completion. 
According to Barbara Litrell,  President of the Coalition, "One of the education goals of the Coalition is to bring this important training right into our Verde Valley communities to make it easier for people to participate." So far this year the Coalition has held trainings in Sedona, Clarkdale, Cottonwood and the Village of Oak Creek.  Each class is limited to 24 participants and the goal is to have 6 trainings this year. That will give the Verde Valley 144 more community members trained to recognize the signs of addiction and mental illness and to know the 5 step action plan to assess a situation and offer assistance.  
The National Alliance on Mental Illness reports that approximately 1 in 5 adults in the U.S. experiences mental illness in a given year. Fear and stigma can often blind us to the signs of mental illness and paralyze us just when we could be of help to another person. Continuing education credit may be available to those attending the 8-hour session.The session begins at 8 am.  Bring your lunch. Beverages and snacks will be provided.   Class size is limited to 24.  Please register early by contacting Barbara Litrell 649-0135.
More like this story