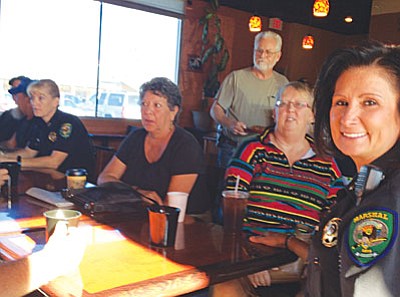 Originally Published: August 30, 2016 2:50 p.m.
CAMP VERDE - The last Monday of each month, Camp Verde residents have a chance to share a table one-on-one with police officers and town officials in order to voice their concerns and to hear the latest in crime updates. On Aug. 29 at 8 a.m., over 20 attendees gathered inside Thanks a Latte to discuss quad thefts, abandoned houses and neighborhood speeding.
Public officials in attendance included Camp Verde Town Marshal Nancy Gardner, Commander Jacquelyn MacConnell, Council member Brad Gordon and numerous Marshal's Office deputies.
Update on rash of quad thefts
Solving a recent rash of off-road quad thefts will be top priority for Gardner and her deputies.
"We will solve the crime," said Gardner.
In the meantime, the department is asking residents to take precautions when parking their quads. The thefts are described as crimes of opportunity, often involving unsecured vehicles parked in conspicuous areas with keys left in the ignition. However, Gardner reminded attendees that "this does not make it any less of a crime."
According to the Marshal's Office, 10 quads have been reported stolen over the past few weeks. The locations of the thefts include 4th St., Chino Drive, Ft. McDowell St., Howards Road, Main St., Park Verde Road and Stolen Blvd. At least two have since been recovered.
"We are out there full force," Gardner said, reminding attendees "We were recently rated the 19th Safest City in Arizona."
Those wishing to remain anonymous while reporting information about the thefts are asked to contact Yavapai County Silent Witness at 800-932-3232.
Abandoned houses inviting crime?
A concern over abandoned houses attracting crime was brought-up by one attendee. She believes that they attract criminal activity as well as transients and she asked Marshal Gardner when she could expect some progress.
"We care, too. There is a legal process that the owners go through. They have a 90 day notice to deal with," said Gardner."
Council member Gordon added his experience in dealing with abandoned and blighted properties.
"Some of these properties can take a year to go through the paperwork. It is a process," he said. "Our budget for mediation is only about $10,000 a year for homes like that."
A related concern of dark neighborhoods was raised by a resident.
Gardner empathized, saying "When I first moved here, I thought, 'I can't see at night.'" She went on to explain that town ordinance protects "Dark Sky" views.
(According to Section 405 "Outdoor Lighting" of Town of Camp Verde Planning and Zoning, "the intent is to provide adequate night-time safety and utility, without excessive glare or light pollution." The section goes-on to specify permitted hours of operation, maximum lumens output and required equipment, such as shielding).
When the subject of night-time disturbances was aired, Gardner encouraged citizens to call-in complaints as they occur.
"When kids are bored and the weather is nice, if you hear a disturbance late at night, let us know, they may be violating curfew law," said Gardner.
Speed bumps to be introduced in pilot project
Traffic problems remained on the list of citizen concerns at this month's Coffee with a Cop.
The issues ranged from SR 260 intersection visibility at Horseshoe Bend Drive and Quarterhorse Ln. (ADOT determines the offset) to speeding in residential neighborhoods.
"It's not just young people," said one resident, adding she has seen elderly people, school bus drivers and truck drivers exceeding the speed limit. Another suggested adding a "Child Crossing" sign to their own private property as a motorist reminder.
Commander MacConnell reminded residents to call-in speeding complaints so that deputies can be assigned to traffic enforcement in affected neighborhoods between their calls-for-service.
Another development will be the appearance of speed bumps in select neighborhoods.
"We are doing a pilot program for speed bumps," said Gordon, "but they are expensive and will be driven by need."
The Camp Verde Marshal's Office can be reached by phoning 928-554-8300 or e-mailing staff members listed online at www.campverde.az.gov/government/marshals-office. For the latest public safety updates, visit the Marshal's Office Facebook page at www.facebook.com/Campverdemarshalsoffice.
More like this story