Originally Published: December 1, 2016 3:31 p.m.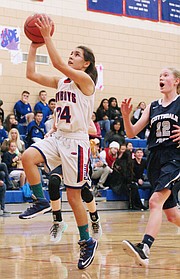 CAMP VERDE – It wasn't easy, but Mark Showers' game plan Tuesday against Scottsdale Preparatory Academy was simple.
Stop the twins, Mandi and Morgan Nemire.
One a lefty, the other a right-hander, the Nemire girls scored 30 of the Spartans' 38 points against Camp Vere High School's girls varsity basketball squad.
But it wasn't enough to beat the host Cowboys, who were led by double-doubles from both senior forward Kayla Hackett and freshman center Jacy Finley to win 49-38 in the team's home opener.
Ahead 18-8 after one period, Camp Verde let Scottsdale Prep get back into the game when Mandi Nemire scored all 13 of her team's second quarter points. At the half, Camp Verde held a 25-21 lead.
"We had a bit of a lapse in the second quarter," Showers said. "So we had to identify where the bleeding was."
Camp Verde figured out the leak in the defense.
"Our girls hung in there," Showers said. "They came back and finished strong."
After scoring 19 first-half points, Mandi Nemire scored only two in the second half. Though her sister Morgan Nemire scored nine in the second half.
"They were tough," Showers said. "Sometimes you'd get confused which one was which."
Camp Verde went on an 11-3 run in the third quarter to take a 36-24 lead
"We're a young team, but that quarter opened things up for us," Showers said. "Jacy Finley got us some rebounds and some quick outlet passes to Hope Ontiveros."
Finley finished the night with 12 points, 13 rebounds, two assists and two blocked shots.
"We're working more on getting her the ball," Showers said. "And she's getting more confidence to get the ball up. She hasn't had a lot of coaching, but her footwork is improving."
By the numbers
Kayla Hackett finished with 11 points, 23 rebounds and five assists. Freshman shooting guard Hope Ontiveros scored 11 points, had four rebounds and two assists. Freshman playmaker Tanna Decker scored six points, added eight rebounds, three assists and five steals. Senior center Marisa Presmyk scored eight points and added nine rebounds.
Along with their 49 points, the Cowboys had 13 assists and 68 rebounds, including 33 offensive rebounds, which is good "as long as you put the ball in the basket," Showers said.
"We weren't able to convert some easy baskets," Showers said. "For a young team, I'm satisfied. But in another month, that should be a 30-point difference. We have some work to do."
Coming up …
Friday and Saturday, the Camp Verde girls will compete in the Phoenix Country Day [PDC] Tournament.