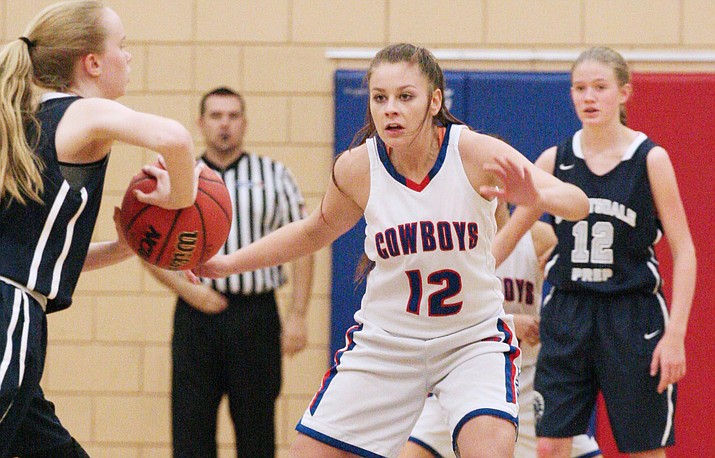 Originally Published: December 8, 2016 3:42 p.m.
CAMP VERDE – Going into Tuesday's home game against Payson High School, head coach Mark Showers knew his Camp Verde girls basketball squad would face its toughest opponent so far this season.
Of course he didn't expect one of his best players – senior forward Kayla Hackett – to miss the game with strep throat.
Fortunately for Showers, Camp Verde was still a tough matchup for Payson, who ended up losing 40-26 to the Cowboys on the strength of 16 points by Hope Ontiveros and nine rebounds for Bennett Holm, who subbed for Hackett.
Maybe even more key for Camp Verde was the defensive play of senior Raiven Alvey, who held Payson sophomore Savanna White scoreless. Finishing Tuesday's game with six rebounds and five steals, Alvey is making a habit of giving fits to the other team's top scorers.
"Raiven is not only quick and fast, but she's gritty, she's tough," Showers said. "She doesn't take anything from anybody. She's not one of our top scorers, but if you can play defense, you'll play."
Also battling sickness, freshman playmaker Tanna Decker finished with eight points, including two three-pointers and two free throws, as well as five assists.
With strep throat, colds and flu "making their way through the team," Showers said at press time he was not sure whether Hackett or Decker would be available for Friday's game against Anthem Prep.
Camp Verde center Jacy Finley scored seven points Tuesday, also grabbing eight rebounds and blocking four shots. Reserve center Marisa Presmyk scored eight points and had four rebounds.
"Payson's a big team," Showers said. "They have two girls, one who is 6'2" and the other is also a 6-footer. Our team played hard and neutralized their size."
Camp Verde travels Friday to Anthem to face Anthem Preparatory Academy. Game time is at 5:30 p.m.
"They have two good, young players," Showers said. "We've got to make sure their two main players don't hurt us offensively."