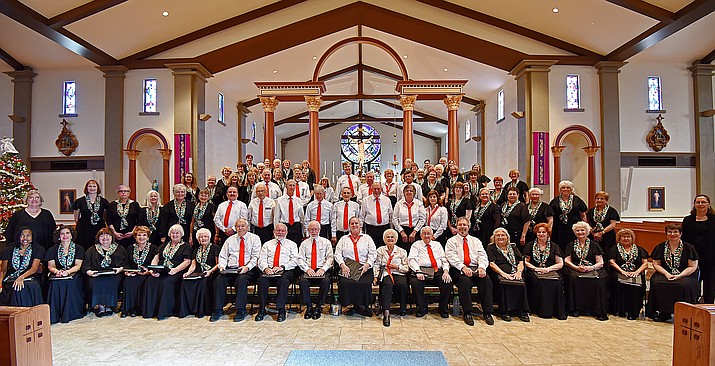 ---
---
The Verde Valley Voices present their 20th Christmas concert on December 18 at Immaculate Conception Church on 89A. 
Doors will open at 2:15 and the concert will begin at 3 p.m.
"I'm so pleased to be able to celebrate this momentous day," said Joy Simons, director of the choir.  "We've chosen some of your favorites throughout the years. The program goes everywhere - from a doo-wop Rudolf to the beautiful O Magnum Mysterium.  A carol sing-a-long and some surprises; it's going to be a very fun afternoon!"
The Verde Valley Voices started in 1996 with about 30 singers.  Today there are 90 singers in the main group and two additional choirs. 
Trish Wood is the president.  "I love the big choir sound, but singing in a small group is just as challenging.  We're really using the acoustics of the room this year, which makes the music even more fun to listen to."
Doors open at the Catholic church at 2:15 on Sunday afternoon, December 18. 
The concert will begin at 3 p.m.  Tickets are on sale now in Cottonwood at Mount Hope Foods, Desert Dancer and Verde Floral.  In Camp Verde you can buy tickets in advance at Sweet Grace Emporium.