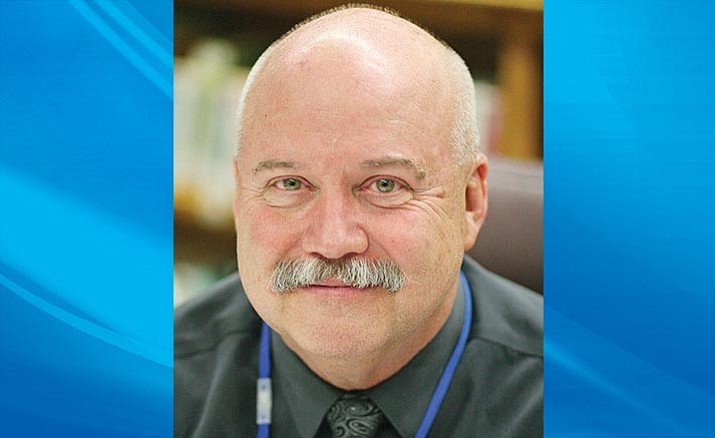 Originally Published: December 13, 2016 11:41 a.m.
Fun, fun in Mr. Malloy's science class. Today, static electricity is the topic of discussion.
Club Pictures and Senior Cap and Gown measuring will be on Wednesday, Dec.14.
Our District Holiday Fine Arts Concert will be Thursday, December 15 at 6:30 p.m. in the MUC.
We are on track to give the ACT to all of our 11th graders and 12th graders who chose to take it on Feb. 28, 2017.

We are really excited to offer this test and even more excited to see how well they do.
Final exams will be Wednesday, Dec. 21 and Thursday, Dec. 22. Those days will also be half-days for students.
Mr. Douvikas was very fortunate to be able to accompany Mrs. Anderson's class to Prescott this past week. We visited Target, Kohl's, and Wal-Mart. Students had a list of items that they had to comparison price at each of the stores.
They also were given $15 and they had to buy a toys for tots item within that price. He was amazed at how well they knew money.
Many of them stretched their dollars well and were able to get three or four toys without going over $15.

We stopped at Chili's for lunch. The students learned how to calculate how much of a tip to leave in class before the trip. Here they were able to put that into practice and they did a wonderful job of calculating correctly. It was a rewarding and very beneficial day.
Camp Verde Middle School would like to congratulate its Employee of the Month for December, Counselor, Sara Boland. An amazing person, Sara is always there for the staff and students. 
Boland is a team player and does whatever she can to make things better. We are glad you are with us.  Congratulations, Sara!!
This week in Mr. Pelfrey's 6th grade science, they are looking at real cells through a compound light microscope. They are looking at a number of different plant and animal cells, which were thankfully purchased by the student council last year. 
Rather than using a number of different microscopes, since time is of the essence, Mr. Pelfrey is using a microscope with a digital camera attachment that shows through the computer and the projector for all to see the same cells at once. They are also beginning to work on a timeline regarding the cell theory and the scientists that made significant contributions to the understanding of cells and the use of microscopes.
Mrs. Gillman's 6th grade Language Arts students are continuing their study on compare and contrast. They read a story this week called The All-American Slurp that compares and contrasts two different cultures.
In Mr. Hansen's 6th grade math, they recently finished a review of multiplication with fractions using models and the algorithm for solving them without models. This week they worked on doing the same with the division of fractions, both modeling and writing equations to match. 
Mr. Tankesley's 7th grade science students are exploring the rock cycle. They learned how igneous, metamorphic and sedimentary rock structures form.
Mr. Wilson's 7th grade social studies just completed the Prologue to Civil War and will be beginning the Civil War Unit. One of the projects in this unit will be a poster project and presentation about a Civil War person, event or issue.
In Mrs. Aitkin's 7th grade language arts classes, they are reading a book about Greek Gods.  Students volunteer to dress up and act out scenes in the book.
Ms. DiBartolomeo's 8th grade social studies students have been learning about World War II and about the propaganda used throughout the war. Students have been learning about the different goals and techniques used to create an effective propaganda poster.
Mrs. Koeppe's 8th grade science students have been learning the parts of a flower.  In the pictures below, she used students to be parts of a "human flower" to help students remember where and what each part is.
The Tech Lab classes have really been productive this week. Seventh graders Casey Corder and Emmitt Smith broke the quarter mile speed for Car Builder by having their car go 130 mph.
Mrs. Worden's 7th and 8th grade choir is rehearsing to perform for the District Holiday Music Celebration on Thursday, Dec 15 (which we are SO excited about), and they'll be traveling to the state capitol on Wed., Dec 14 to perform at the State Capitol's Holiday Concert Series.
The Middle School Spelling Bee was held on Thursday.  This year's winner was 8th grader Daniela Vega. 
Next week, the Cowboys finish out 2016 with the Boys basketball teams home on Tuesday against Beaver Creek and the Girls teams home on Thursday against Clarkdale. Games are at 4 p.m. and 5 p.m.  Come on out and support the student athletes.
Cyber Cowboys in the news, in competitions, and at play
It's been a busy few weeks for the elementary school's robotics team, the Cyber Cowboys.
During last week's professional development for staff, the Cyber Cowboys came decked out in their competition gear to practice their presentation that they would be doing at the upcoming First Lego League Animal Allies Competition in Flagstaff. The presentation focused on manure and how we as a community can create a place for manure to be shared and utilized for projects in our town.

Meanwhile, competition day came last Saturday and our Cyber Cowboys traveled to Flagstaff to compete against 29 other teams, mainly consisting of middle school students. In competitions, it is normal for each team to choose their two best robotics programmers/operators to participate in the actual competition portion of the event, acting as representatives for the whole team.

Coach Peggy Dickey chose to manage the team differently, wanting to give all team members a chance to compete.
Finally, this report wouldn't be complete without showing off the competition gear our students sported. Coach Dickey did a fantastic job of recognizing our team's sponsors, while keeping with the cowboy theme.
The cowboy shirts have sponsor's logos prominently displayed.
Matching cowboy hats and belt buckles round out the uniform, with students wearing boots and jeans. Great job, Coach Dickey and Cyber Cowboys team members.
Special Education
To date 210 IEP meetings have been held at the schools.

As of Dec. 9, 229 special education students are enrolled in our schools.

Gifted
The elementary gifted classes have ventured a bit off the beaten path this week.  At developmentally appropriate levels, students are creating Christmas stories with illustrations. 
Each sentence starter weaves its way into the whole of the story and will be enclosed with illustrated covers. 
This has been a fun way to explore some creative ideas listening to Christmas carols, writing, and drawing. 
The hope is the students will each leave for break with a beautiful Christmas keepsake framing their excellent reading and writing skills.
Parents of Home Schooled Students
Parents of home schooled students are invited to a meeting on Friday Dec. 16 at 9 a.m. to discuss the special education referral process and the types of special education services that are available.

The meeting will be held in the Student Services conference room and is expected to last approximately 30 minutes.

A notice about the meeting has been placed in the Dec. 16 edition of the Verde Independent and Camp Verde Bugle.
Child Find
On Dec. 2, the Preschool Child Find Team screened a record eight preschoolers for possible disabilities.
The word is getting out that early intervention services are critical to help children with delays develop to their potential.
The next date for Preschool Child Find screenings for preschool aged children (ages 3-5 but not eligible for kindergarten) will take place Friday, Jan. 20 from 9 a.m. until noon.
Child Find screenings are held in the preschool classroom at the Elementary School.

To schedule an appointment for a preschool aged child to be screened, please call Mrs. Jackson at 928-203-2682.
The remaining dates for preschool Child Find screenings are March 3, April 21 and June 16.
More like this story