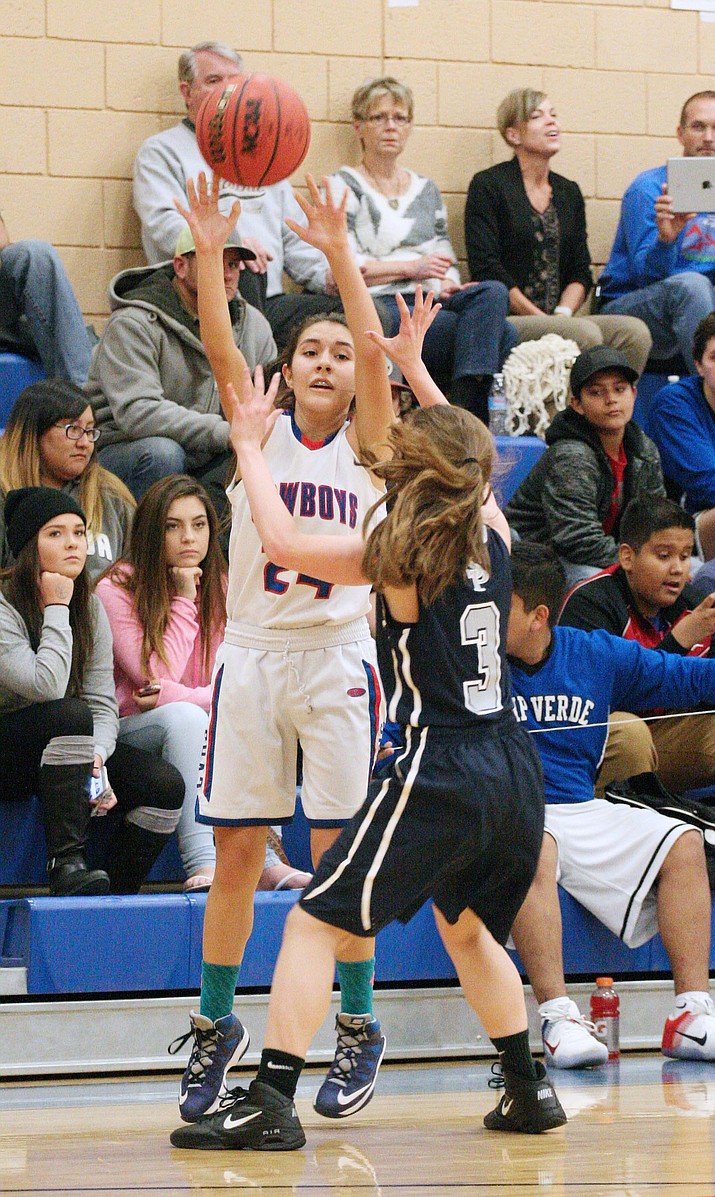 Photo by Bill Helm.
Originally Published: December 15, 2016 8:46 a.m.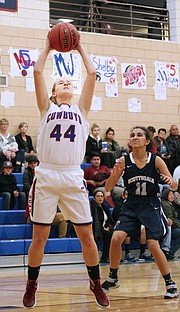 CHINO VALLEY – The last time the Camp Verde girls basketball squad faced the Tonopah Valley Phoenix was two weeks ago at the Phoenix Country Day Tournament.
Losing 40-35 left a sour taste in the mouths of a squad that has mostly been undefeated this year, save three losses at the Dec. 2-3 tournament.
Friday, Camp Verde looks to continue its winning ways – this time avenging Tonopah Valley.
"They have aggressive kids," said Camp Verde head basketball coach Mark Showers. "They play a 1-2-2 zone. They press a bit. We have to be able to handle the pressure. And we've got to be able to exploit their weaknesses in the zone, send people to the open spots. It's one of those things that comes with time."
It won't help that Camp Verde that freshman point guard Tanna Decker will be out of the lineup, nursing a sprained ankle Showers said he hopes will be better by the time the Cowboys host Mingus Mountain Academy on Tuesday, Dec. 20.
In the interim, Camp Verde has inserted Amanda Lozanilla into the lineup. In her first action this season for the varsity squad, the freshman point guard scored six points and dished out two assists to help lead the Cowboys to a 40-30 win Tuesday on the road in Chino Valley.
"Amanda stepped in and knew where to be, what place to be in," Showers said. "I'm happy I could bring a JV player up. I'm pretty happy, she had a good game."
Ahead 19-15 at the half, Camp Verde took control in the third quarter by scoring 14 points, to Chino Valley's one point. Freshman center Jacy Finley led the third quarter charge with three quick baskets to start the period.
"I think it rattled Chino," Showers said.
Ahead 33-16 after three quarters, Showers began finding time for his reserves.
"We had a comfortable difference in points," Showers said. "But the score got a little bit more manageable [for Chino]."
Chino struggled to stop the Camp Verde front court from hammering the boards, as Finley, senior center Marisa Presmyk and senior forward Kayla Hackett grabbed a collective 24 rebounds.
"Kayla's our leader. She knows what to do as well as anybody," Showers said. "She makes things happen that the regular player doesn't. She'll jump over everybody and get the rebound. Her athleticism allows her to do so much."
Learning to lead
Sophomore guard Hope Ontiveros scored eight points Tuesday, also had three assists and three steals for Camp Verde.
Showers said her performance against Chino Valley was how a "good leader" ought to play.
"As a sophomore, she'll need to be one of our leaders in the future," Showers said. "Guards are the quarterbacks of the team. I have a bunch of smart kids. But the people who run the team have to be more focused."
It's not enough that Ontiveros is a starter as a second-year player.
With a freshman replacing the injured Decker, Showers gave Ontiveros additional responsibility.
"I told her before the game 'You have a rookie point guard out there [in Lozanilla]. You'll have to help her.' She's got to be physically, verbally in control. This was a major step in her performance as an athlete."
Freshman Anna Peterson saw playing time in the fourth quarter for Camp Verde, scoring two points.
"She did a nice job for us," Showers said. "She hit a shot, took care of the basketball, she showed some confidence."
For Showers, confidence is the difference between playing – and not playing.
"You can't lose your way emotionally," the coach said. "You can't have what we can 'chin-to-the-chest disease.' You can't give up. You've got to continue working."
Getting experience
With three seniors and one junior, much of coach Showers' roster is underclassmen, something he said "isn't normal" in high school athletics.
"It's a delicate balance," Showers said. "This is not like a regular year. But a lot of these kids have played before where they were the stars. The natural progression is for freshmen and sophomores to play JV and for the juniors and seniors on the varsity."
Recently, Showers has begun playing some of his young players on both the varsity and junior varisty squads, to get the varsity bench some "much needed floor time" when consistent playing time on the varsity team cannot be guaranteed.
"Either way, they get a ton of playing time," Showers said.
Up next
Thursday, Camp Verde squares off against Horizon Honors on the road before returning home Friday to face Tonopah Valley at 7 p.m.