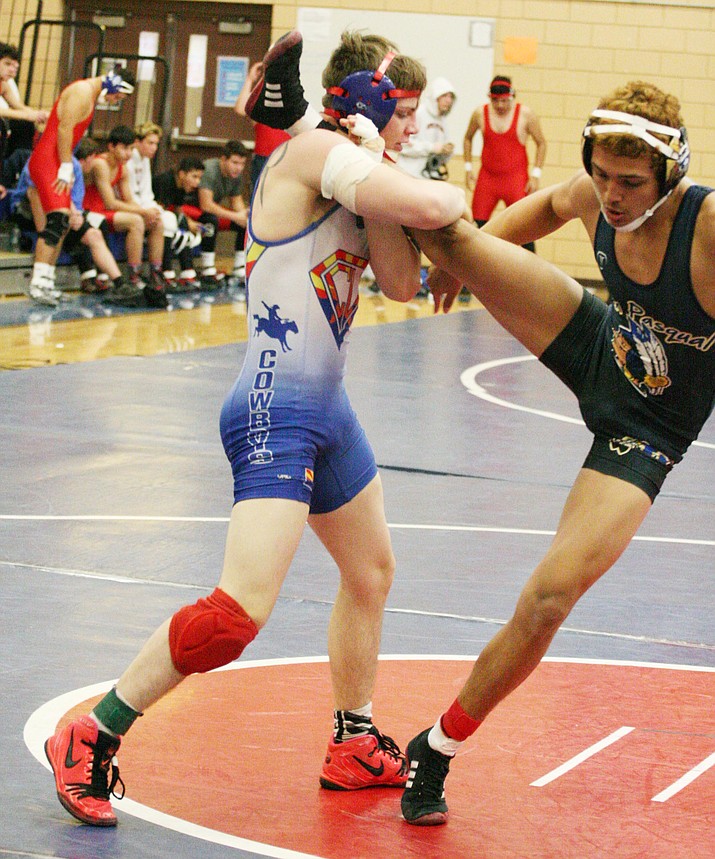 Originally Published: December 20, 2016 1:11 p.m.
WINDOW ROCK – It's been almost a year since Camp Verde's Ezekiel Casillas finished second in state for his weight class.
This year, the senior wrestler is competing as if he plans to be the state's best 132-pounder.
Ask his final challengers at the Dec. 16-17 Veterans Memorial Invitational, and they may say he's already the best.
In Saturday's semifinals at Window Rock, Casillas needed only 15 seconds to pin New Mexico Moriarty's Zachary Batie.
Which was a scant bit less than the 21 seconds Casillas needed to pin Round Valley High School's Kaden Padilla in the finals.
In only his second action of the season, Casillas is already poised to be one of the state's best light-weight grapplers.
"E-Z is an exceptional athlete," says head coach Tracy Tudor. "Strong, muscular, fast. Takes it right to them, gets it done. And he's an excellent wrestler in the later rounds."
But at Camp Vere High School, Casillas could be anywhere from best to sixth-best on a team loaded with talent. Ask Tudor, and he says that "at least five, maybe six" of his wrestlers could take home the award for being best in state at his respective weight class.
Besides Casillas, 106-pounder Keene Todacheene, 113-pounder Skyler Pike, 126-pounder Korben Uhler, 138-pounder Hayden Uhler and 152-pounder Oscar Berrelez joined Casillas by also willing the championship at their weight classes at the third annual Veterans Memorial Invitational.
As a team, Camp Verde finished first in the tournament, as they forfeited only two weight classes – 182 pounds and 220 pounds, the first time this season that Tudor has had a near-full squad.
"All over the country, it's talked about, this problem filling teams," Tudor says. "It's hard; some schools bring half-teams. Our kids train hard, and when they can't wrestle [because of forfeits], it kills their mat time."
Besides the six Camp Verde champs, 120-pounder West Phillips finished second, and both 160-pounder Enrique Garcia and 170-pounder Jose Guzman finished the tournament in fourth. Both seniors, Garcia and Guzman are first-year wrestlers. And Tudor says that they are "both looking good."
"By the end of the season, I think they can qualify to go to state – and do well," Tudor says. "They're both good athletes, and they have a huge amount of heart. That's part of their success."
Hayden Uhler has wrestled this season at 138 pounds. But against Monument Valley, the senior wrestled against the school's 145-pounder – and pinned the young man.
"That school's 145-pounder was very good, but their 138-pounder wasn't as good," Tudor says. "So we jumped Hayden to get him a better match. We normally don't do that, but I won't hesitate to get him top-quality matches. Sure, it takes a chance on a loss, but you do it for the experience."
Not only did Uhler win the invitational's championship for his weight class, he also took home the tournament's Outstanding Wrestler Award.
It would be an understatement to call say Camp Verde's performance Dec. 16-17 was a success. All Cowboy wrestlers finished at least .500, led by Todacheene, Pike, Korben Uhler and his brother Hayden Uhler, Casillas and Berrelez finishing with 10-0 records, Phillips with a 9-1 record, Garcia at 7-3, Guzman at 6-4, 145-pounder Skylar Barker at 4-3, 195-pounder Brandon Ruiz at 4-4 and 285-pounder Laddie Willis at 6-2.
Scores for Dec. 16-17 Veterans Memorial Invitational
Keene Todacheene
106 pounds
10-0, championship
Skyler Pike
113 pounds
10-0, championship
West Phillips
120 pounds
9-1, second place
Korben Uhler
126 pounds
10-0, championship
Ezequiel Casillas
132 pounds
10-0, championship
Hayden Uhler
132 pounds
10-0, championship
Skylar Barker
145 pounds
4-3
Oscar Berrelez
152 pounds
10-0, championship
Enrique Garcia
160 pounds
7-3, fourth place
Jose Guzman
170 pounds
6-4, fourth place
Brandon Ruiz
195 pounds,
4-4
Laddie Willis
285 pounds
6-2