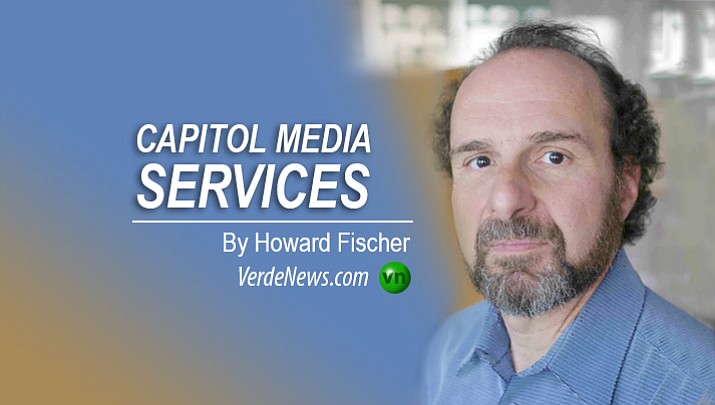 Originally Published: December 29, 2016 3:32 p.m.
PHOENIX -- Two men who are serving life terms behind bars for crimes they committed as juveniles will get a chance to convince a judge they eventually should be given an opportunity for freedom, the Arizona Supreme Court ruled.
In their ruling, the justices did not say that Gregory Valencia Jr. and Joey Healer should ever be allowed out of prison. Both were previously sentenced by Pima County judges to terms of "natural life,'' meaning no possibility of parole.
But Chief Justice Scott Bales, writing for the unanimous court, said he and his colleagues are bound by a ruling from the U.S. Supreme Court which said that such sentences for juveniles should be reserved only for the worst of the worst.
More to the point, the nation's high court said that decision has to be applied retroactively. And Bales said that means Valencia and Healer are entitled to have a judge reconsider the sentence and, if appropriate, reduce it to where they would have a chance to get out some day.
But two of the state Supreme Court justices used the opportunity to take a slap at their colleagues on the nation's high court and the logic behind their rulings.
In those rulings, the U.S. Supreme Court concluded that "appropriate occasions for sentencing juveniles to the harshest possible penalty will be uncommon.'' And the court said such sentences can be imposed only on the "rare juvenile offender whose crime reflect irreparable corruption'' versus "transient immaturity.''
That language bothered Justice Clint Bolick.
" 'Transient immaturity' is when my adolescent daughter slugs her big brother,'' he wrote for himself and Justice John Pelander.
"It may even describe peer pressures that influence reckless behavior,'' Bolick continued. "But it is not an apt rationalization for cold-blooded murder.''
And Bolick said the facts in these two cases from the 1990s suggest the sentences were appropriate.
"The murders in these cases were brutal,'' he said.
In the case of Healer, Bolick said he borrowed a sawed-off rifle and entered the home of Chester Iserman, an elderly man who had given Healer odd jobs so he could earn money. Healer, 16 at the time, shot Iserman through they eye, killing him, and then stole his truck.
Valencia, 17 in 1995, entered a condominium complex with a younger accomplice, took a bicycle from an enclosed patio and then tried to get into the patio of another unit. When homeowner Fred George came out to investigate, the other teen threw the stolen bicycle at George and Valencia shot him in the head.
Bolick said the sentencing judges in both cases determined they should never be released even after considering all of the evidence, including their youth.
Bales stressed that noting in Friday's rulings means that either Healer or Valencia will ever get out of prison. All it does is give them a day in court.
"At these hearings, they will have an opportunity to establish, by a preponderance of the evidence, that their crimes did not reflect irreparable corruption but instead transient immaturity,'' he wrote. "Only if they meet this burden will they establish that their natural life sentences are unconstitutional, thus entitling them to resentencing.''
On Twitter: @azcapmedia