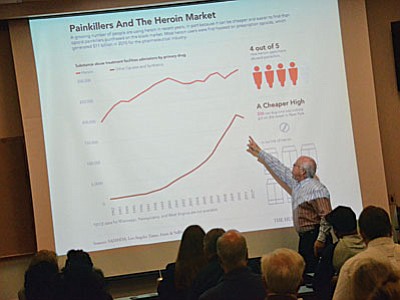 Originally Published: February 1, 2016 9:42 a.m.
COTTONWOOD - First it was methamphetamine. Then perscription drugs. Now, heroin has emerged as the biggest drug problem facing the Verde Valley.
That was the message delivere to about 70 people gathered in the Cottonwood Police Department training room last week.
Heroin is the latest drug, and perhaps the most serious, that the local anti-drug coalition MatForce has had to deal with in its 10 years of organization.
Cottonwood City Manager Doug Bartosh is the co-chair of MatForce. He said Tuesday's "Cottonwood Conversation on Heroin" is the first in a series for Yavapai County as part of a strategy to try to shut the door on the drug's use. Overdose deaths from heroin have risen as the drug becomes more common from six deaths in Yavapai County in 2014 to nine in 2015.
Over time, the drug of choice has slowly migrated into prominence across the country. Bartosh replayed a recent CBS 60-Minutes episode that portrayed the widespread abuse of heroin in Ohio. One student interviewed said heroin was easier to buy than marijuana or cocaine.
A series of families interviewed, whose children had become addicts, overdosed and died using heroin, all said that "they had missed the signs that their children were addicts." The "stigma and shame of the abuse" compounds available treatment, they noted.
One girl who survived said she had been in rehab 17 times and jailed six to seven times.
In a recent "heroin snapshot" of use in Yavapai County, MATForce showed an informal unpublished study gathered during a two-week period in early August, 2014.
At the time, there were 760 contacts with heroin in Yavapai County; 93 percent of those contacted with heroin were unemployed according to the study.
Of those contacts, 95 percent were Caucasian, 3.2 percent Hispanic, 1.2 percent African-American and less than one-half percent were Asian.
The distribution of use in Yavapai County follows the populations, with the highest numbers in Prescott and Prescott Valley and fewer in the Verde Valley.
Of heroin contacts, there were 42 with home addresses in Cottonwood, 35 in Camp Verde, six in Rimrock and two in Clarkdale-Jerome and one in Sedona.
A strong message to come out of the conversation emphasized that 50 percent of those who had injected heroin said they had also abused pain killers before that. They often reported that getting heroin is cheaper and easier to obtaining than pain killers.
The belief is that heroin is more profitable and easier to produce and market for Mexican cartels than marijuana, said Bartosh.
MATForce continues to work to suppress use of pain killers, which often lead to heroin abuse. Like heroin, pain killers are also opioids.
Dr. Leon Cattolico, a retired local physician and a member of the MATForce advisory team, has long campaigned to make mandatory by prescribers, the use of a prescription drug use database, the Controlled Substance Prescription Monitoring program.
The program, which debuted in December 2008 and is overseen by the Arizona State Board of Pharmacy, is designed to cut down on the persistent problem of prescription-drug abuse.
Cattolico says the program is vital in reducing the number of pills available in the wild by people who become "doctor shoppers" to find drugs.
The problem, said Cattolico, is that only 40 percent of prescribers are registered and 20 percent actually use the database. New legislation, just introduced, would make use mandatory.
There was a discussion of the use by first responders of naloxone hydrochloride, which is distributed under the brand name Narcan. Fire departments now have access and use. One paramedic, Ian Anderson, said use of the naloxone is simply the first step. The next step is to call 911. He said you cannot overdose on naloxone. It is inert if you have not consumed opiates.
Such drugs trigger immediate withdrawal and combat oxygen deprivation that results when the overdose slows or stops the person's breathing.
According to the National Centers for Disease Control (CDC), accidental overdose is now the No. 1 cause of death in the United States, exceeding even automobile accidents for people among the age of 25 and 64.
Officials were represented from Spectrum Healthcare and sober living facilities. People mentioned that one of the problems is that there are not enough treatment centers to house people who want to get treatment for addiction. Spectrum officials discussed how a person could get access.
Bartosh detailed other strategies the MATForce advisory team discussed. Education is at the top of the priorities.
There is investigation into an 'amnesty program' for addicts who get treatment, a program like Massachusetts already operates. There is also consideration of treating and registering inmates in jail for ACCCHS.
There is also talk about increasing penalties for sales of heroin.