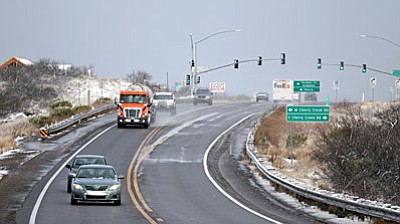 Originally Published: February 2, 2016 1:50 p.m.
The threat of snow manifested itself early Monday morning, as a dusting of flaky moisture made its presence known in Camp Verde.
Snow and rain in Camp Verde measured .11 inches, with a mean temperature of 36 degrees and a dew point of 28 degrees.
The day's precipitation was not the only condition to affect the roads for Camp Verde drivers, as a wind speed of 9 miles per hour from the south, and a max gust speed of 43 mph made driving something of a challenge. (Photos by Bill Helm)