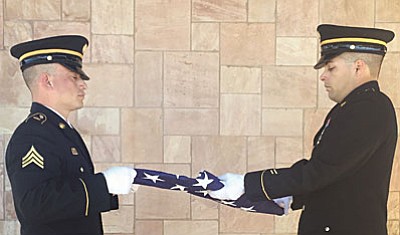 Originally Published: February 24, 2016 5:03 p.m.
Space E. Row F. Number 449. This is the address of Gary John Butterfield's new home - at the Prescott National Cemetery.
Four people attended his funeral on Feb. 16. None was his family. But he got a proper veteran's burial, according to Bridgett Bowers.
Best as anyone can tell, she said, any blood relations don't even know that he is gone.
Before he died on Jan. 20, Butterfield lived in Rimrock.
Few people seemed to know Butterfield. Fewer seemed to care. For close to two years, Bowers was one of the few who would say more than HI to him.
And she did more than just offer a greeting. She was his friend - and his landlord.
Bowers, property manager at Camp Verde Realty, remembers the first time she met the man who many believed was too much trouble for their time.
"He came to us in 2014 through Catholic Social Services. We didn't know a lot about him," Bowers said. "We knew he was a veteran."
Bowers says that Catholic Social Services dropped Butterfield off, with his clothes and rent for a few months. After that, his social security and veterans' benefits would pay his way.
Other than helping pay for his place to live, Catholic Charities "had turned their back on him," Bowers said.
A Catholic Charities representative declined to comment on Butterfield.
About eight months ago, Bowers began to pick Butterfield up at his place, take him to the grocery store or for a haircut. "The way it started, I would pick up his rent," Bowers said. "Then I would be the only one to get him out of the house."
So long as Gary was on his medication, he was fine, Bowers said.
"He'd be a bit ornery,' she said. "But not much. The man's a veteran. You're telling me he's the only ornery veteran out there?"
"She took an interest in Butterfield out of necessity," according to Chris Cameron, one of Bowers' co-workers. "He was loud, crass and belligerent. But in time, she found she cared for the old fool. In large part, because of how few other people seemed to care for him. But also because a crusty exterior is almost never an indication of the person it encases."
Said Bowers, Butterfield's medical condition caused his clothing to not be comfortable. So when he was alone at home - which was most of the time - he would be undressed.
"He was a rude man, he didn't bathe, he was partial to sitting naked in his rented apartment and seemed to relish shocking the myriad of social workers who came to, and just as quickly ran away from his doorstep," Cameron said. "He was his own worst enemy."
According to Trish Arruda-Peterson from High Caliber Home Care in Camp Verde, she and Bowers talked about trying to provide help for Butterfield. Arruda-Peterson said she called the Prescott VA to be approved as a care provider, but that the VA" didn't return my telephone calls."
"I think it's a sad case, that they dropped the ball for this man," Arruda-Peterson said.
Bowers and Butterfield used to talk about how nobody else would come to see him. To this day, she doesn't understand the lack of compassion she perceived in the paid professionals.
"Nobody ever would come and help him," Bowers said with tears in her eyes. "From what I heard, 40 people couldn't get along with him. But I could? That doesn't make any sense to me. Everybody says it's wonderful what I'm doing. I'm thinking, "who wouldn't [help]?' It's sad."
The food delivery driver from Meals on Wheels found Butterfield, dead, in his living room.
Other than Bowers - and Meals on Wheels, nobody visited Butterfield. That was no way to treat a veteran, Bowers said, who was equal parts sad and angry when she found out that Butterfield had died.
"He was an elderly person who needed help," Bowers said. "And he served his country."