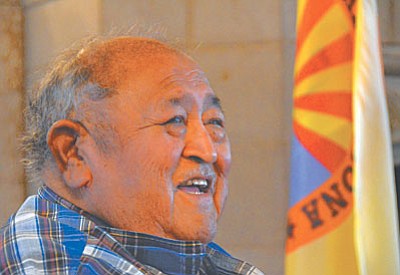 Originally Published: February 25, 2016 1:31 p.m.
People here know that a bad thing happened just a few generations ago. The first people were told to leave their Verde Valley home to make room for outside settlers. And so people old and young were marched on foot in a winter exodus. The journey ended with incarceration in San Carlos nearly 200 miles from home.
Here's what a few of the many respected elders of the Yavapai-Apache Nation had to say about Exodus 2016:
Thomas Beauty, chairman,Yavapai-Apache Nation
"For our Yavapai-Apache community Exodus Day is a day that we commemorate the strength and endurance of our ancestors who were forced marched as prisoners of war. We also celebrate their vision and stamina to return home to the Verde Valley and make us what and who we are today as a Nation. As a people we take this time every year to honor our legacy and history. We will never forget or take that sacrifice for granted."
Vincent Randall, former chairman and cultural manager, Yavapai-Apache Nation Cultural Resource Center
"It isn't just a story or festival. It commemorates our determination to survive under any and all conditions. Survival - that's what it's all about."
Gertie Smith, cultural manager, Yavapai-Apache Nation Cultural Resource Center
"It's a commemoration of our resilience."
Don Decker, director of public relations and editor, Yavapai-Apache Nation
"As for myself, I know that this annual event is a positive event and I believe that our people know what really happened here in Verde Valley in the mid-1800s. But instead of dwelling on the past, Exodus is really a victory celebration that marks a new beginning for our people and our community neighbors nearby. Our Nation is at the forefront of providing well-paying jobs for everyone in Verde Valley which has increased the living standards of families. It's a win-win situation for all of us."