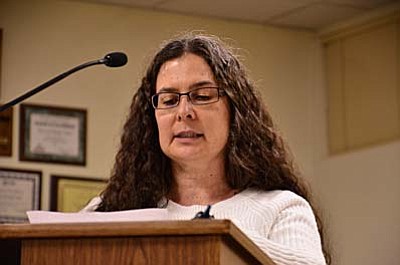 Originally Published: January 7, 2016 2:35 p.m.
CAMP VERDE - Wednesday, Camp Verde Town Council voted 6-0 to renew the terms of both B. J. Davis and Jim Hisrich on the Town's Planning and Zoning Commission.
Wednesday's vote also included the appointment of a new commissioner.
Camp Verde resident Teresa Helm was named to replace outgoing commissioner Howard Parrish.
Helm told council she had been interested in the Planning and Zoning Commission for several years.
During her speech, she said she "whole heartily agrees with the goal of the commission, which is to serve the public with the highest professional and ethical standards and take pride in knowing that our efforts are helping to make the Town of Camp Verde a great place to be."
The new commissioner also spoke of how she has lived in small towns and understands a tight-knit community. She also has been in accounting for many years working for small and large companies, which she said has given her a variety of knowledge.
"Working in those areas, I am very aware and concerned for the health, safety and welfare of the general public," said Helm.
Council members, Robin Whatley and Carol German agreed that Helm would be a good match for the commission because she is female and will bring a different perspective to the group.
-Follow Aryssa Carvalho on Twitter @aryssamashon and on Facebook.com/cvbugle