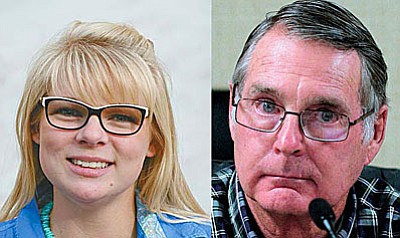 Originally Published: January 14, 2016 1 p.m.
CAMP VERDE - Planning to run against Camp Verde Vice Mayor Bruce George in the March 8 special election, Town Council candidate Leah Robbins dropped off petitions with 152 signatures to the Town Clerk's office on Friday, Jan. 8.
Robbins surpassed the 106 signatures needed to run in the election.
Prior to collecting signatures to run against George, Robbins had said she planned a recall against council members Robin Whatley and Brad Gordon.
But that was before her plan to run against George, Robbins said.
George has been the subject of recall since early 2015 when Cheri Wischmeyer and her group Camp Verde For Good Government filed paperwork to seek recall on George and council members Robin Whatley and Jessie Jones-Murdock, as well as Mayor Charlie German for voting to pass a sales tax increase.
Enough verifiable signatures were eventually collected against George.
-Follow Aryssa Carvalho on Twitter @aryssamashon and on Facebook.com/cvbugle