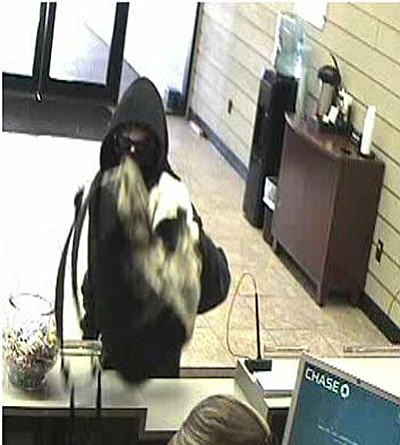 Originally Published: January 15, 2016 6:38 a.m.
CAMP VERDE - Camp Verde Marshal's deputies are looking for a suspect in an armed robbery committed at the Camp Verde Chase bank at 3:11 p.m. Thursday.
The suspect is a white male, believed to be in his early- to mid-20s, standing 5 feet 10 inches tall and weighing approximately 120 pounds.
The suspect entered the bank wearing a black zip-up jacket with a hood, black sunglasses, a black mask over his lower face, white gloves, light-colored pants and black tennis shoes, and left the bank with "undetermined amount of money," according to Camp Verde Marshal Nancy Gardner.
According to witnesses, the suspect, carrying a black, semi-automatic pistol - possibly a 9mm, handed the teller a camouflage backpack, and demanded money. He left the bank on foot heading north up a drainage wash, witnesses said.
Camp Verde Marshal's Office set up a perimeter with the assistance of the Yavapai-Apache Police Department, Yavapai County Sheriff's Office, Arizona Department of Public Safety and DPS's Ranger helicopter with thermal-imaging equipment.
The Sedona Police Department's K9 Unit is also searching for the suspect.
A $2 bill was found in the field behind the bank and is being processed for DNA evidence, CVMO Spokesperson David Marshall said.
Officers with Arizona Department of Public Safety (DPS), Yavapai County Sheriff's Office and the Yavapai-Apache Police responded to assist CVMO in the investigation, Gardner said.
Gardner also said that the FBI has taken over the bank robbery portion of the investigation.
CVMO is asking for the public to help identify the suspect. A reward is available through Silent Witness, 800-932-3232. Callers are not required to give their names. Rewards pay from $100 to $1,000 for information leading to an arrest.
-- Follow Bill Helm on Twitter @BillHelm42 and on Facebook at @CampVerdeBugle
VERDE VALLEY -- Some bank robbers try to make a career of it, and sooner or later they get caught. Such was the case of 54-year-old Kevin Lee Campbell who eventually pleaded to a series of bank jobs and was returned to prison in in February 2015.
Campbell started with a bank in Kingman a year earlier in 2014. He then robbed the Chase Bank in Camp Verde, then he held up the Bank of America in Cottonwood as well as the National Bank of Arizona in Chino Valley.
The last is where a bank employee wrote down his license plate numbers, and he was subsequently arrested in Mayer.
Evan Starkey, 38, had several felonies, including DUI, theft and assault. He used a stolen shotgun in 2012 to rob a Cottonwood Credit Union of about $3,000.
But as police formed a perimeter and closed in on Starkey, he turned the shotgun on himself and took his own life.
In 2008, 50-year-old accountant Richard Rothwell was not hard to find. A couple hours after robbing the Cottonwood Chase Bank, Rothwell was arrested at Cliff Castle Casino in Camp Verde.
Back in 2007, William Dominic Zeluff robbed the Chase Bank in Cottonwood, but was caught in Nebraska.
Zeluff, 24, said he thought the money would help his child support situation. But it just made matters worse.
"It costs a lot more than that just to hide out" he told the sentencing judge.
He said he used the money for his daughters in Texas and Pennsylvania, and for bus tickets.
-- JON HUTCHINSON
More like this story