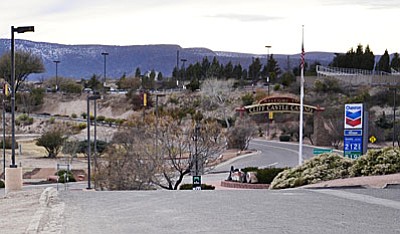 Originally Published: January 19, 2016 12:01 p.m.
CAMP VERDE - In a partnership with Greyhound Bus Lines, the Yavapai-Apache Nation has agreed to host a bus stop at the White Hills Chevron Service station in Middle Verde across from Cliff Castle Casino Hotel.
The Nation adopted the resolution on Jan. 14.
According to the Greyhound bus schedule, five buses travel each way daily between Flagstaff and Phoenix. The Middle Verde location would be approximately half way to Phoenix and about 50 miles from Flagstaff.
The contract begins Feb. 1. For the bus schedule from Middle Verde, contact the Yavapai Apache Transit at 928-649-7129.
The Yavapai-Apache Transit line is operated by the Yavapai-Apache Nation, which provides bus connections from the Yavapai-Apache Nation in Middle Verde through Camp Verde with a stop at the Yavapai County Courts and Detention Center and to Cottonwood and finally, Clarkdale.
It will be possible for people in Sedona to take a city bus to Cottonwood and transfer to the Yavapai-Apache Transit and make their connection to the new Greyhound bus stop in Middle Verde.
The agreement between the Yavapai-Apache White Hills, a business entity of the Yavapai-Apache Nation, that operates the Chevron station in Middle Verde and Yavapai-Apache Nation, also guarantees a portion of the ticket from Greyhound to the Yavapai-Apache Nation Transit for each of the inner-city transfers. Market surveys of the bus passengers of Greyhound indicates that an average of 45 people ride each of the 10 buses between Phoenix and Flagstaff daily. Current bus fares from Flagstaff to Phoenix is $16.
(Don Decker is the editor of the Yavapai-Apache Nation's monthly newspaper, Gah'nahvah/Ya Ti')
More like this story