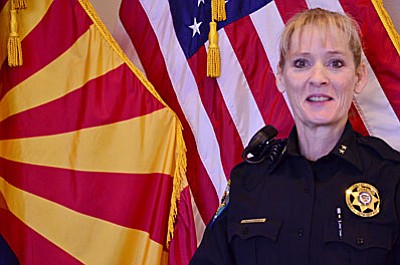 Originally Published: January 26, 2016 1:25 p.m.
CAMP VERDE - New to Camp Verde, Jacquelyn MacConnell said she wants to create a bond with the community, just like her coworkers have.
Community is an important part of her job, said MacConnell, the new commander with the Camp Verde Marshal's Office.
MacConnell retired after 20 years of service with the Phoenix Police Department.
A few years after retiring, MacConnell met Camp Verde Marshal Nancy Gardner.
When the commander job opened at CVMO, MacConnell said it felt like it was meant to happen, and that all things happen for a reason.
And MacConnell now had the opportunity to get back into law enforcement.
She went to ASU and has her degree in criminal justice.
MacConnell originally wanted to be a lawyer, but when she interned at Phoenix Police, she said that she changed her mind.
"I went on a ride-along and I just loved it. I knew this is what I wanted to do with my life," said MacConnell.
She currently teaches two classes at NAU. Law Enforcement Systems is a class she teaches once a week on campus.
She also instructs an online class in Leadership in Law Enforcement.
During her time with Phoenix Police Department, MacConnell started a program called Angels on Patrol.
"The organization is to help officers help people," she said.
People can donate money to help others in the community. Examples she gave was paying for the costs of funerals or taking a family grocery shopping, or buying blankets. Angels on Patrol help families in crisis. MacConnell said she started this program because she had seen so people who needed financial help that she couldn't afford to help them all by herself.
MacConnell said eventually she would like to start a similar program in the Verde Valley. Once she is settled into her new job she plans on making her rounds in the community to meet the residents, business owners and public officials.
-- Follow Aryssa Carvalho on Twitter @aryssamashon and on Facebook.com/cvbugle
More like this story