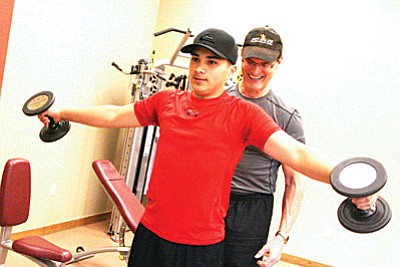 Originally Published: July 5, 2016 3:48 p.m.
CAMP VERDE - A new gym has opened in Camp Verde. But it's not an open gym, not in the typical sense.
Fit-in-15 is a personal trainer-guided program run by Camp Verdeans Dick and Lisa Nunez for people who don't just want to work out, but for those with intense training in mind.
Fit-in-15 is based on the idea of intense, short workouts that key on what Lisa Nunez calls the "fast-twitch muscle fiber."
"By doing high-intensity, you get to that muscle-fiber more frequently," she says.
Barely one month ago, Dick and Lisa Nunez were packing up both their business and their home, both located in Rapid City, South Dakota.
"We're both involved with an online health ministry up in Flagstaff, and we wanted to get closer to them," Dick Nunez says. "Lisa's always wanted to move to Arizona. But she couldn't do the cold. So we looked around the Verde Valley and we came to Camp Verde. It was perfect for us."
On June 20, Fit-in-15 opened its doors at the 4R Business Park, located at 155 S. Montezuma Castle Highway, unit 7. As of July 1, the business already has 18 clients.
"Word is starting to get out," Dick Nunez says. "A lot of people are hungry for an actual personal trainer."
Dick Nunez has been a personal trainer for 30 years, and has worked with both professional and amateur athletes. Though his history is long on athletes, Dick Nunez says that anybody - everybody benefits from a proper workout.
"The number one sign that somebody is getting older is weakness," he says. "Such as trouble getting out of a chair. By the time you're 70, one-third of all men and two-thirds of all women can no longer lift 10 pounds above their head. Or they no longer can carry their groceries.
"Two-thirds of all Americans are either overweight or obese," Dick Nunez says. "They do not understand how important having strong muscles is in the battle of body fat. The more muscle you have, the higher metabolism you have."
Once her husband's client - before they were married - Lisa Nunez has now been a personal trainer for seven years. With a background as a veterinary technician, she explains that both free weights and machines allow their clients to work all parts of the body.
Recently Sgt. Oscar Berrelez of the Camp Verde Marshal's Office and his son, also named Oscar, both participated in their fourth workout at Fit-in-15. For young Oscar, 17, the strength training he sees is a chance to better sculpt his body, now 20-plus pounds lighter than at this time a year ago. For the elder Oscar, strength training will help him be more "mentally and physically prepared" to do the job he has performed for 20 years.
"I want to get rid of the fat, the inches on my waist, for a healthier heart," Sgt. Berrelez says. "It's been amazing, the past week alone. I've never had this kind of a workout."
Fit-in-15 is open weekdays, from 6 a.m. until 6 p.m. Monday, Wednesday and Friday; and from 6 a.m. until noon Tuesday and Thursday. Cost is $180 per month, three sessions each week. Or $140 per month, two sessions each week. An athletic enhancement for kids program is available for $100 per month, three-month commitment, three sessions each week.
Each session lasts 15 minutes. For more information, call 928-567-3262.