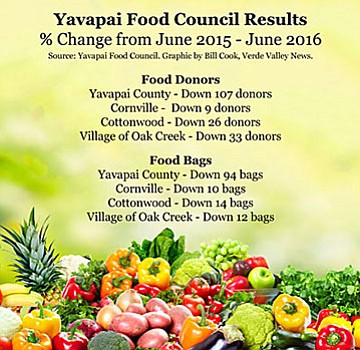 Originally Published: July 5, 2016 3:51 p.m.
VERDE VALLEY - With summer heat driving some folks out of the Verde Valley, it appears those who remain are doing their best to step-up to the plate in order to feed the hungry.
"The June collection results are in and the total pounds of food collected, and total number of meals collected are all up from the April collection, yet the number of bags and number of donors are down as expected," said Amy Aossey, executive director, Yavapai Food Council (YFC). "For the most part, it looks like the food donors that have not left for the summer are graciously giving and filling those bags."
The YFC is a nonprofit which supports area food banks, child hunger programs and SNAP assistance programs.
Donors and bags take a hit
Countywide, the number of participating food donors dropped by 107 to 946 in June compared to April's 1,053. This also resulted in a reduction of collected food bags countywide, from 1,153 in April to 1,059 in June. These are the green bags that donors fill with extra food items when they shop and are later collected by a neighborhood coordinator.
In the Verde Valley, the number of donors also dropped in June. For example, the Village of Oak Creek fell by 33 donors (from 296 to 263), Cottonwood dropped 26 donors (from 188 to 162) and Cornville slipped by 9 donors (from 94 to 85). The number of food bags collected in June also slipped compared to April, with 14 fewer in Cottonwood, 12 fewer in Village of Oak Creek and 10 fewer in Cornville.
Fortunately, current donors filled the reduced number of bags with more food. This resulted in an overall 34 pound increase in food collected in June countywide compared to April. For example, Prescott equivalent meal collections - - which surpass all of those of Camp Verde, Cornville and Cottonwood combined - - were up by 21, helping to buoy the average upwards.
100 percent collection results
Aossey pointed out that the efforts of neighborhood coordinators in three areas, all of whom collected from 100 percent of their neighborhood donors. Recognized by Aossey were Michael Johns and Kenn and Lora Trout of Camp Verde as well as Maryann Behrens of Cornville.
The Village of Oak Creek has a track record at excelling in neighborhood food collection efforts. Aossey recognized Barb Gordon, Carolyn Kavanagh, Danielle Giann, Gail Simpson, Ilaine Packman, Judith Arni, Linda Hogsett, Margie Gershtonson, Noreen Lisowski, Suzie Dunn, Mariam Stein and Susie Anderson for their efforts.
Sedona's Bountiful Kitchen
Construction is half-way completed at the Bountiful Kitchen build-out in Sedona, which according to the YFC is "the areas first nonprofit commercial kitchen focused on healthy, fresh food for students."
"We are very excited about the possibilities of this new project and anticipate serving 2,000 to 2,400 meals per week to hungry students in the Verde Valley with the launch of this pilot project," Aossey said.
The YFC is still raising funds for this project in order to acquire kitchen equipment and a start-up food inventory. Organizations interested in having a fund raiser to benefit Yavapai Food Council's Bountiful Kitchen are asked to contact Fund Raising Chairman Karen Schudson at k.schudson@gmail.com or Executive Director Amy Aossey at amy@yavapaifoodcouncil.org.
More like this story