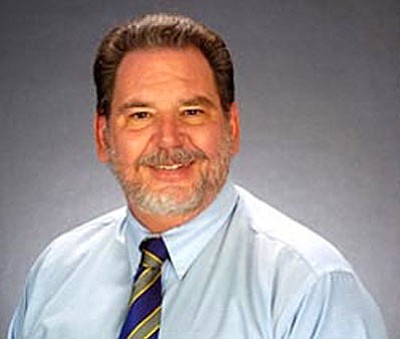 Originally Published: July 12, 2016 1:21 p.m.
Guns Subject of League of Women Voters Meeting
The July 18 monthly voter education program of the League of Women Voters Greater Verde Valley will feature Larry Gould, PhD, Professor Emeritus of Criminology and Criminal Justice at Northern Arizona University and Executive Director of the Western Social Science Association. 
Dr. Gould's presentation, "A Citizens Army or Armed Citizens? The Second Amendment from Madison to LaPierre" will include an overview of the first 10 amendments and how they came to be and then a detailed look at the Second Amendment and why it came into being. What were Jefferson, Madison and Hamilton thinking when they included the words, "A well-regulated militia, being necessary to the security of a free state, the right of the people to keep and bear arms shall not be infringed" ? 
The Second Amendment, adopted in December 15, 1791, as part of the first ten amendments contained in the Bill of Rights, is still probably the most controversial of all the amendments. According to Barbara Litrell, President of the LWVGVV, "With the headlines on escalating gun violence, it's important for everyone to have an understanding of the amendment and the laws and to ask our candidates about their positions on issues related to gun violence. With all Arizona legislature seats up for election, it's a good year to find out where candidates stand."  
The meeting is free and open to the public and  will take place twice, from 9-10:30 at Yavapai College, 4215 Arts Village Dr., Sedona and from 12-1:30PM at Yavapai College, Clarkdale at 601 W. Black Hills Drive. 
The League of Women Voters is  a nonpartisan political organization dedicated to public service in the field of government. It is a national organization -- open to both men and women -- whose purpose is to encourage political responsibility through informed and active participation in government. The League influences public policy through education and advocacy. The League never supports or opposes political parties or candidates for elective offices. 
However, the League does take positions on issues and  has a position on Gun Control as adopted by the 1990 LWV Convention and amended by the 1994 and 1998 Conventions. The League of Women Voters of the United States believes that the proliferation of handguns and semi-automatic assault weapons in the United States is a major health and safety threat to its citizens. The League supports strong federal measures to limit the accessibility and regulate the ownership of these weapons by private citizens. The League supports regulating firearms for consumer safety. The League supports licensing procedures for gun ownership by private citizens to include a waiting period for background checks, personal identity verification, gun safety education and annual license renewal. The license fee should be adequate to bear the cost of education and verification. The League supports a ban on "Saturday night special," enforcement of strict penalties for the improper possession of and crimes committed with handguns and assault weapons, and allocation of resources to better regulate and monitor gun dealers. 
For more information contact Barbara Litrell 649-0135 or blitrell@aol.com. 
VV Cyber Connection Meetings
'Android 101: Q & A' is the Third Friday Workshop topic for Verde Valley Cyber Connection which meets Friday, Jul 15 at 5 p.m. presented by Jody Wheeler. Then Saturday, Jul 16, the General Meeting at 10 a.m. This is our summer Pot Luck Luncheon. Members and visitors bring a covered dish to share. BBQ Pulled Pork will be provided. Meetings are No Charge. Bring a friend. Donations accepted to help defray costs. Clemenceau Building, Willard Street at Mingus Avenue, Cottonwood. Dave 639-0106
Call for Fort Verde Days quilt entries
The Fort Verde Days Quilt Show will be held October 8 and 9 at the Community Center Gym, 395 S. Main St., in Camp Verde. If you have a quilt you haven't entered in a previous Fort Verde Days Quilt Show, plan to enter it this year.
This is a non-juried show celebrating the joy of quilting, and all levels of skill and ability are encouraged to participate. Any quilted item from placemats and table runners to art quilts, wall hangings, baby quilts and bed quilts are acceptable. Please call Jackie Holmstrom at 928-567-3023 or Peg Miller at 928-567-5322 for more information or if you would like to help plan this year's show.
Eat Smart, Live Strong Series at Library
Mark your calendars seniors! Enjoy fun and lively activities with other older adults at the library in this four part series of free classes brought to you by the University of Arizona Cooperative Extension. Talk about easy ways to make smart food choices and exercise more. Learn how you can Eat Smart and Live Strong.
The dates of the classes are July 27th, August 3rd, August 10th and August 17th from 2 to 3 pm in the library meeting room. The Cottonwood Public Library is located at 100 S 6th St in Cottonwood.
Robert Whitaker Keynotes Mental Health Summit
The Mental Health Coalition Verde Valley will host its second annual Mental Health Summit on Friday, August 26, 8:30 a.m. to 3:15 p.m. at Cliff Casino Casino Conference Center, 555 W. Middle Verde Rd, Camp Verde. The theme of this year's Summit is "Latest Truths and Treatments," a look at the debate swirling around the long term use of psychiatric drugs and a discussion of innovative treatments and options. The program should provide to everyone a good overview of current thinking related to the treatment of mental illness.   
The morning keynote speaker is Robert Whitaker, award winning science and history writer and author of five books. His latest, Psychiatry Under the Influence, written with co-author Lisa Cosgrove, was published in April, 2015. Much of his writing has focused on psychiatry, the pharmaceutical industry, and medical histories. His first book, Mad in America: Bad Science, Bad Medicine and the Enduring Mistreatment of the Mentally Ill, was named by Discover magazine as one of the best science books of 2002, while the American Library Association named it one of the best history books of that year. His subsequent book on this topic, Anatomy of an Epidemic: Magic Bullets,  Psychiatric Drugs and the Astonishing Rise of Mental Illness in America, won the Investigative Reporters and Editors book award for best investigative journalism in 2010. At the Summit, Whitaker will address "Challenges in Today's Mental Health System"
The afternoon keynote speaker is Dr. Grace Jackson, board certified psychiatrist, lecturer and author of Rethinking Psychiatric Drugs and Drug Induced Dementia: The Perfect Crime. Dr. Jackson graduated summa cum laude from California Lutheran University with a Bachelor of Arts in Political Science and a Bachelor of Science in Biology, as well as a Masters Degree in Public Administration. She earned her Medical Degree from the University of Colorado Health Sciences Center in 1996 and completed her internship and residency while in the U. S. Navy.  Her professional experience has included national and international testimony as an expert witness, as well as clinical service in a variety of treatment settings including  Bethesda Naval Hospital, the North Carolina prison system, the Veterans Administration,  North Carolina and Arizona Medicaid clinics, and community hospitals.   She was the Interim Director of the Behavioral Health Unit at Verde Valley Medical Center 2013-2014 and now operates a private practice in Cottonwood, AZ.  Dr. Jackson will address the question of "Are We Treating Essential Causes As Well As We Should?"
The Summit will also feature two panels.  The morning panel will focus on personal stories of recovery and the afternoon panel will focus on innovative treatments. 
The cost for the Summit is $25 which includes lunch. Register at  http://www.brownpapertickets.com/event/256808. For more information contact Barbara Litrell 649-0135 or blitrell@aol.com. 
Survivors of Suicide Support Group
Survivors of Suicide Support Group for those who have lost a loved one to suicide. 6:30-8:30PM. Christ Lutheran Church, 25 Chapel Rd., Sedona. Group meets last Tuesday of each month. For more information call Karen @ (928)554-4169.
Early child care professional training in Camp Verde
Yavapai College, in conjunction with Arizona Department of Economic Security, will conduct a no-cost intensive introductory course, titled "Early Child Care Professional Training." The class will meet on the Camp Verde Head Start .353 W. Apache Trail Camp Verde, AZ 86322 beginning Tuesday, August 16th 2016.
The 60-hour course is designed for those interested in pursuing careers working in child-care centers, pre-schools, Head Start programs or in-home child care. The 10 modules cover pertinent topics, such as child development, appropriate learning environments, nutrition/menu planning and early reading and math activities to encourage skill development.
The classes meet Tuesdays and Thursdays, 6pm-9pm and Saturdays from 8:30am- 3:30pm starting  August 16,18,20,25,27,30 , September 1,6,8,10,13,15,20,24,27 and 29. Seating is limited to 20 participants, and preregistration is strongly recommended. Questions? Call toll free 1-866-219-1021 or email: ccpt@yc.edu for more information (se habla español).
Awarded to Yavapai College in 1999, the training enables participants to enter the workforce by providing high-quality child care and education in their communities. The grant provides for up to 15, 60-hour workshops in twelve counties in Arizona each year. Upon completion, students can earn three college credits.
Registration begins for Cottonwood-Oak Creek
Cottonwood-Oak Creek schools will open next Monday, July 18, and will begin taking early registrations at all of our campuses?
Dr. Daniel Bright
Cottonwood Elementary
Cottonwood Middle School
Oak Creek Elementary 
Mountain View Preparatory (Waiting List)
Offices will be open from 7:30-4pm daily, M-F.
School will resume on Wednesday, August 3rd.  
Give blood in Camp Verde
The next Camp Verde Community Blood Drive will be from 10 a.m. until 3 p.m. Friday, August 12 at the Camp Verde Community Center gymnasium, located at 395 S. Main St.
Contact Irene Peoble for more information at 928-567-9227. Or visit www.Bloodhero.com (Sponsor code: CampVerdeCommunity).
Complete Motoring Guide to Navajo and Hopi Nations
The Verde Valley Archaeology Center offers a free talk on Tuesday, July 19, at 6:30 pm in the Cliff Castle Casino Hotel. As editor of the third edition of Fran Kosik's classic travel book, "A Complete Motoring Guide to the Navajo and Hopi Nations," Jim Turner retraced her routes in January 2013, updating information on dozens of intriguing Native American trading posts, prehistoric ruins, museums, and natural wonders. Using the pictures taken on that trip, this presentation creates a visual travelogue of this vast beautiful and culturally unique domain. Before retiring from the Arizona Historical Society, Jim Turner worked with more than seventy museums in every corner of the state. He wrote the pictorial history book, Arizona: Celebration of the Grand Canyon State, is a part-time editor for Rio Nuevo Publishers, and writes articles for magazines and newspapers. Turner moved to Tucson in 1951, earned a master's degree in U.S. history from the University of Arizona, and has been researching, writing, and teaching Arizona history for almost forty years. More information at vvarchcenter.org or 928-567-0066.
EntireCare Rehab & Sports Medicine HELPS screening in Camp Verde
Incoming freshmen through seniors from Camp Verde, Cottonwood and Sedona high schools are invited to participate in Northern Arizona Healthcare's EntireCare Rehab & Sports Medicine's HELPS program − Healthy athletes, sports Enhancement, Learning, Prevention and Scholarships.
The HELPS clinic − an extensive sports physicals incorporate multiple screenings and tests − is from 2-5 p.m. on Friday, July 22, at the new Northern Arizona Healthcare − Camp Verde Campus, 1298 W. Finnie Flat Road. Parents will need to complete a physical consent and history form. The screenings are free, but a suggested donation of $15 is appreciated.
For more information on the HELPS program or to request a brochure, call EntireCare Rehab and Sports Medicine at 928-639-5562. Ask how your tax-free donation can help our young athletes achieve health and wellness.
More like this story