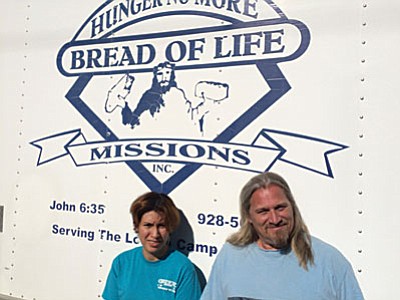 Originally Published: July 16, 2016 4:23 p.m.
VERDE VALLEY - Feeding the hungry has no borders, and two agencies 32 miles apart are filling urgent needs throughout the Verde Valley.
As does the Old Town Mission in Cottonwood, the faith-based Bread of Life Missions in Camp Verde has a 22-year history of providing physical and spiritual support to the disadvantaged throughout the valley.
On the north side, Yavapai Food Council in Sedona has so far distributed over a half-million meals county-wide since being founded by Verde Food Council's Harvey Grady in 2009. These agencies are just two of the many non-profits providing hope and support to those who have neither - - be it a hungry child, a jobless single parent or an elderly widower.
"It's our responsibility to bring resources forward while allowing people to understand there is no stigma, no judgment," said Amy Aossey, executive director of the YFC.
Aossey has a lifetime link to nourishing people, from her grandmother's kitchen cooking Lebanese food to her professional catering of such clients as General Mills, IBM and the Navy Reserve back in Iowa.
When life brought her to the Verde Valley, Aossey became involved in grass-roots, non-profit food programs. She soon found that meals provided by private purveyors focused on bottom-line gains at the expense of quality and variety. Aossey decided she could do better.
Children
"I got a call two years ago from Desert Star Community School in Cornville that some of the kids hadn't had breakfast and that they were coming to school hungry," said Aossey.
That was all Aossey needed to hear. Since that call, YFC branched out into child-focused programs such as Backpacks for Kids, Weekend Food Packs- - and now - - the Bountiful Kitchen
YFC has long-provided emergency weekend food packs in Cornville, Sedona and the Village of Oak Creek. Now it's ready to bring 525 meals daily this school year to hungry students attending American Heritage Academy in Camp Verde and Cottonwood. To further its success, construction is half-way done with Bountiful Kitchen, an extension to its current office at 2020 Contractors Road in Sedona that will house a commercial kitchen and coolers.
"Schools will have the option to contract with YFC to receive brown bag breakfasts and lunches through the National School Lunch free/reduced meal program or else through direct contract with us," says Aossey, whose annual report estimates 2,500 meals student meals will be served this school year.
Jobless
On the south side of the Verde Valley, Duane Burris, director of operations for BOL, knows first-hand what it's like to seek sustenance from a stranger. In Burris' case, the sustenance came in both spiritual and physical form - - and it turned his life around.
"I was living my life in a way that I shouldn't," said Burris.
Now a 13-year veteran employee of the mission, Burris' step-daughter Chanell Rodriquez is also a volunteer. Every Tuesday night between 4 p.m. and 8 p.m., the mission feeds a hot meal to those in need at the Camp Verde gym, a space donated by the town. They also offer commodity packages every second Tuesday and emergency food packages anytime.
Burris said they operate outside government funding, because "they have so many requirements and when we start having to ask for IDs and valid addresses, people leave. We are here to feed people, not turn them away."
In the northern Verde Valley, Aossey says "In 2008, it was people who had been laid-off. Now, it's people working two or three part-time jobs that need a meal."
She also finds herself having to overcome the impression that the neighborhoods surrounding her Sedona office have no hungry (they do), along with "the judgmental attitudes towards those seeking food."
Elderly
A significant part of the community that could benefit from meal programs are the elderly.
Having watched Meals-on-Wheels trying to deliver lunches some 20 miles outside its Cottonwood kitchen, BOL Board Member Phoebe Hach got to thinking that there must be a better way.
"I've contacted everybody on Camp Verde council that Bread of Life Mission would be happy to deliver meals to area seniors once our kitchen is funded and built," said Hach.
She finds that the elderly in and around rural Camp Verde find themselves marooned when it comes to transportation to grocery stores and meal programs. For that reason, Hach and Burris would love to see a shuttle donation.
Another barrier to elderly people receiving adequate nutrition is pride.
"With so many seniors, there's a level of pride that they don't want anybody to know. If anybody deserves it, it's the seniors who've payed their dues all of their life." Aossey said.
How to pay it forward
In a country where to this day people worry about their next meal, there is no shortage of ways to help. Some of these cost nothing more than a few hours of time. Both BOL and YFC are actively recruiting volunteers as well as donations of cash and transport trucks.
BOL won't be successful in seeking grants until they have some land to build on. Once they secure land and funding, they plan to build a larger warehouse facility and commercial kitchen where food could be stored and distributed to needy families throughout northern Arizona. Currently, the hungry in Coconino and Yavapai counties are supported by a St. Mary's Food Bank truck that must travel from Phoenix each time. Also, a dining hall and basic social services are on the radar for the mission - - but first, it needs commercial land near the freeway.
Meanwhile, YFC is seeking Green Bag donors who pick-up a few extra items for the hungry while shopping. With the new kitchen facility due to open this fall, volunteers who assist enrolling in SNAP or helping to pack student food packs are sought. College intern Lexy Guthart, a hospitality major at Northern Arizona University, is applying her skills at YFC because she "likes to help people."
The Bread of Life Mission can be contacted at 928-567-6931 or visit www.bolmaz.org.
The Yavapai Food Council can be contacted at 928-254-8172 or visit www.yavapaifoodcouncil.org.