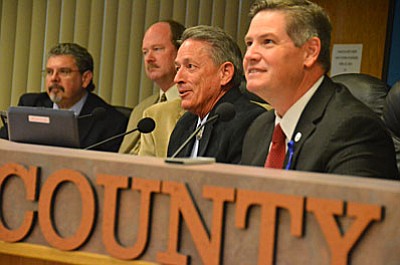 Originally Published: July 21, 2016 1:52 p.m.
COTTONWOOD -- For the convenience of Verde Valley residents, the Yavapai County Board of Supervisors held a public hearing Wednesday regarding a request to raise library funding by 16 percent.
According to County Administrator Phil Bourdon, the Yavapai County Free Library District rate is currently $16.42 per $100,000 home. The proposed hike would raise the rate to $19.07, a $2.65 increase.
"I assured them we would get them whole," said Supervisor Rowle Simmons, referring to earlier funding cuts. "Now we need to recoup some of this and put them on an even keel. I have 16 libraries in my districts. I see first-hand the value of a library in a small community."
"They offer safe haven for after school activities. You can do homework in a safe environment and have a librarian who can help you do research," said Board Chairman Jack Smith.
The rate was part of the tentative budget approved July 6 for final budget approval Aug. 1, which is public in compliance with the Truth in Taxation Hearing for Fiscal Year 2016-2017.
In other matters Wednesday:
MADD services extend beyond victims
Victims Services Specialist Patty Abeyta-Young of Mothers Against Drunk Driving (MADD) briefed the board of supervisors about the extended services offered through her organization. These include victim compensation, law enforcement support, school presentations and offender education.
"A lot of people are injured for life. They have PTSD after a crash. Sometimes they lose their job," said Abeyta-Young. "We give them someone on their side that can go over victim's rights so that they know what the process is. These cases can go on for one or two years."
Along with advice on compensation and legal issues, she said that MADD also supports victim's emotional needs.
"On Mother's Day or the anniversary date of the crash, we honor their loved ones," Abeyta-Young said.
District 4 Supervisor Craig Brown asked if MADD had taken a position on potential legalization of marijuana, and Abeyta-Young replied "No, we are not taking a position."
Brown said that he is involved in a similar driver awareness campaign involving area law enforcement, ADOT and Cable One publicizing the hazards of distracted driving.
Spectrum mobile response team relieves police of mental health cases
A pilot program where mental health specialists intervene in situations involving police contact has saved the county "half-a million dollars" in unnecessary jail and ER expenses, according to an update by CEO April Razo of Spectrum Health.
The 24/7 mobile response team sends trained specialists to scenes involving initial police contact with someone having mental health issues. The specialists assesses and refers the person to appropriate treatment while in most cases freeing officers to return to service.
"Between Feb. 1 and June 30, we responded to 109 calls. We stabilized 55 percent, with 58 percent of those needing a higher level of care. 90 of 112 would have gone to jail if the program had not been in place," said Razo.
The board voiced their continued support of the pilot program.
"We have been striving for innovative ideas and ways to lower jail costs for years," said Davis. "We are continuing to look for ways to lower jail numbers and help people live product lives and not just incarcerate them. The mentally ill are a high percent of our jail population."
"In 40 years in law enforcement, I can remember as a young police officer that we didn't have the resources," said Brown. "We were never meant to be psychiatrists and often people don't know who to call."
Chairman Jack Smith agreed, saying "When I was in law enforcement, when you would pull-up on a person you knew was not engaged with his faculties, the only alternative was jail."
Sheriff gets state-of-the art jail records system
A recent assessment by an outside consultant of the Yavapai County Jail system revealed many issues. One of them involved the obsolete platform used to manage jail records.
Yavapai County Sheriff Scott Mascher said "we knew that and were moving ahead prior to assessment" and then made his case for the board's unanimous approval of a state-of-the-art jail records management system. The initial $50,000 investment will come from Mascher's existing budget projections and the remaining cost of $86,000 per year for two years will be spread-out over the next fiscal cycle using projected sources.
"With a current 995 inmate population, would this help with breakdowns?" asked District 1 Rowle Simmons.
"Absolutely," said Mascher. "It will help our mental health, our classification process. I think it's a pretty good deal."
Brown agreed, stating "It's a step in the right direction to help us in the future" with Smith adding, "It's a great use of funds."
More like this story