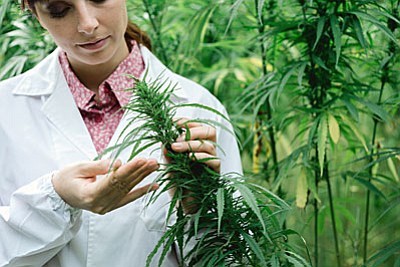 Originally Published: June 11, 2016 2:46 p.m.
VERDE VALLEY - Bane or boon? Now that medical marijuana grow facilities are a reality in the Verde Valley, what economic impact will it have on our communities?
A quick background
Cannabis (marijuana) remains listed as a Schedule I substance under the Federal Controlled Substances Act of 1970. Schedule I identifies the active ingredient tetrahydrocannabinol (THC) as having "a high potential for abuse" as well as "no established medical use."
Although the cultivation, possession, sale, use and transportation of cannabis remains illegal under federal law, individual states are allowed to decriminalize the substance - - as long as it is regulated. Possible avenues of legalization include medical use by qualified patients via regulated dispensaries; commercial cultivation facilities; industrial applications (such as hemp apparel) and/or personal recreational use, depending on state law.
In 2010, Arizona voters approved Proposition 203 to allow the use and distribution of marijuana for medical purposes. To deal with incoming facilities, the Town of Camp Verde established zoning in 2008 and the City of Cottonwood in 2011. As with any other legal enterprise, municipalities are powerless to ban the facilities, but may enforce building codes relating to public health and safety.
How many states are growing marijuana legally?
The medical use of marijuana has been decriminalized in 24 states. Also, both the medical use as well as the recreational use of marijuana is legal in Alaska, Colorado, Oregon and Washington. (Note: A voter petition is circulating in Arizona to allow the recreational use of marijuana).
In addition to these four states, the cities of Portland and South Portland, ME as well as Keego Harbor and Portage, MI have legalized marijuana for both medical as well as recreational use (with the District of Columbia allowing recreational and medical use but not commercial recreational sale). Jack Strauss, an economist at the University of Denver.
What has been the economic impact in Colorado?
When the State of Colorado legalized all marijuana use, the Department of Revenue (DOR) reported tax revenue from retail marijuana sales amounted to $40.9 million between January 2014 and October 2014 - - not including revenue from medical marijuana, licenses and fees. Primary benefactors of the windfall included schools, public health and addiction prevention programs.
Then there is the employment factor.
The DOR also reported that Colorado's unemployment rate hit a six-year low, with 16,000 employed in the marijuana industry. A University of Denver study showed wages at Denver dispensaries averaged $17 hourly, with two dispensaries contributing 280 jobs and $30 million in total economic output in its first six months of operation - - 10 times the tax revenue of a typical restaurant or retail store.
Community concerns over the true cost of
decriminalization
Some of the concerns over legalizing marijuana in Colorado included the unintended economic costs of crime, safety and addiction issues.
In its first year status report, the Drug Policy Alliance cited government statistics revealing "since the first retail marijuana stores opened on January 1st, 2014, the state of Colorado has benefitted from a decrease in crime rates, a decrease in traffic fatalities, an increase in tax revenue and economic output from retail marijuana sales and an increase in jobs."
As a counterpoint, the Arizona Chamber Foundation's report presents an alternative view.
"The argument for claimed 'savings' in criminal justice expenditures does not carry much weight in Arizona, where fewer than 100 of Arizona's 40,000 prisoners are incarcerated for marijuana-related offenses," said the report.
The report also raises "serious workplace safety issues, and employers may be found liable for acts of negligence committed by employees while on the job, and also for injuries to workers sustained on the job the in the form of workers' compensation claims."
Costs go beyond monetary and into the environmental.
The same report quotes a 2012 study in the journal Energy Policy stating "On average, a single marijuana plant consumes roughly six gallons of water per day," although more water-efficient irrigation methods have since been adopted.
How Chino Valley has thrived
While the medical marijuana industry may be in its infancy in the Verde Valley, one hour drive to the east, acres of medical marijuana are openly grown in Chino Valley.
A Nov. 25, 2015 article in the Chino Valley Review cites Jeff Tice's "two grow sites on Road 1 East employ about 50 people and have spent between $2.25 to $3 million in building their businesses."
Also, "Al Abrams, who owns and manages the other medical marijuana grow facility on Road 1 East, said that more than a third of his employees are full-time and receive benefits. The others are only brought in for harvesting. He said most of them reside in Chino Valley. Abrams and Tice said the starting wage is between $12 and $13 an hour."
What is the potential economic impact for
the Verde Valley?
Like any other enterprise opening in the Verde Valley, the marijuana industry contributes to employment (both in construction as well as operation) and tax revenue (property tax as well as retail sales tax, when applicable).
In 2013, the first marijuana dispensary opened in Cottonwood. The following year, a marijuana grow facility opened on East Cherry Street that is now being expanded.
"We do receive sales tax from the sale of marijuana. It is not a huge amount. As for other economic benefit, maybe employment," said Rudy Rodriguez, administrative services general manager, City of Cottonwood. "The city has no property tax for any city services, so that would not help there."
In Camp Verde, Town Manager Russ Martin says "the first of four grow facilities have been completed in Camp Verde and dispensaries are knocking on our door."
Although the completed site on Old State Highway 279 contains a remodeled 13,000 square-feet structure to be used as a cultivation facility, the zoning clearance permit indicates that employment will be minimal, stating "parking will be based on 2 - 3 employees."
With wholesale medical marijuana cultivation not a taxable retail sale, Mike Showers, finance director, Town of Camp Verde, sees other benefits trickling down to the community.
"School districts, fire districts, these are some of the areas supported by property taxes," he said.
Demitri Downing, consultant and regulatory specialist for the statewide marijuana industry, says "There is very little data in the Verde Valley. But every time a use permit is applied for, there's potential for manufacturing, cultivation, infusion and production facilities with jobs."
Downing also sees competition heating-up for one of the 131 potential cultivation facilities allowed by state law, which Demitri says is capped at one facility per ten pharmacies.
"The future is going great," said Downing.
More like this story