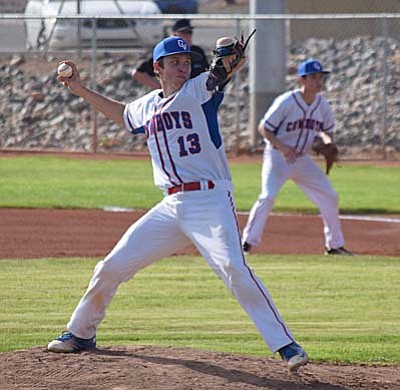 Originally Published: March 5, 2016 8:38 a.m.
CAMP VERDE- Junior Easton Braden and senior Logan Conrad switched positions Friday night as the junior backstop took the mound and threw a complete-game four-hitter for the Camp Verde Cowboys as they defeated the Williams Vikings, 6-2 Friday afternoon.
It was a perfect day for baseball at Camp Verde High School as the Cowboys earned their second-straight victory of a three game home stand.
After a shaky start in the first inning in which Williams clean-up hitter Ethan Johnson drove in Carston Brinkworth for their only earned run of the night. Braden was saved by his defense when he got his opposing pitcher Sheldon Racher to ground into an inning ending double-play.
The Camp Verde offense did the rest as they tack on two runs in the first inning.
Lead-off hitter John Castillo come in on a Ryan Cain single that found its' way through the Williams infield. Cain, who has been a terror on the base paths so far this season, stole second on the next at-bat.
Rafael Zapata then came in from third when Williams's catcher Alex Galvan tried to fake a throw to second and lost control of the ball.
The Cowboys tacked on two more in the bottom of the second when center-fielder Blake Penrod came home on a called balk by Racher. Zapata knocked in Alex Villafranco on a sacrifice-fly that put the Cowboys up 4-1 after two innings.
Braden only allowed one-hit over the next five innings, but that hit would come around to score on a called balk.
The junior hurler struck out four over those five innings and was helped by his defense as Cain made two or three plays in the hole between first and second, including a diving play in the top of the 3rd inning.
Camp Verde tacked on two more runs, one came in the bottom of the fifth when Conrad drove in Zapata on an RBI single.
Braden gave himself a little more room to work with before heading back out for the top of the 7th when he drove in junior shortstop Wyatt Howe with an RBI sacrifice fly.
He came back out in the 7th inning and after hitting the first batter, he got some help from his defense when left-fielder Darren Franklin made a slick diving catch in left field.
Rafael Zapata made a nice play at third, followed by Cain making a play in the hole with Braden covering first to end the game.
The Cowboys racked up nine hits on the night and stole four bases on five attempts. Zapata racked up the only double on the night for the Cowboys.
Camp Verde will end their home stand on Tuesday with a match-up against the Parker Broncs at 3:45 p.m.
-- Follow Greg Macafee on Twitter @greg_macafee and Instagram @VerdeValleyNews