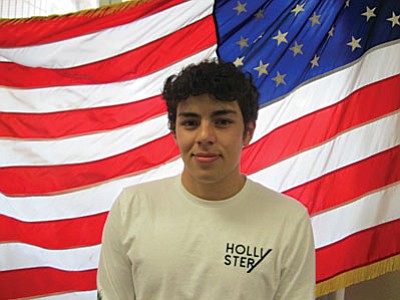 Originally Published: March 12, 2016 11:59 a.m.
By TOM TRACEY
Staff Reporter
CAMP VERDE - Two Camp Verde High School students were named students of the month in February:
Brent Miller, Rotary Student of the Month
Miller has participated in Varsity track for three years and Varsity soccer for two years.
He also served in the National Honor Society and Fellowship of Christian Athletes.
Miller will be studying accounting at Yavapai College before moving on to a four-year university in order to become a Certified Public Accountant.
Luis Herrera, Kiwanis Student of the Month,/b>
Herrera has been a Culinary Arts student for four years. He has competed in culinary competitions with Skills USA, winning in his region as well as becoming a state competitor.
Herrera works at the Hilton Sedona Resort, where he is learning on-the-job.
Herrera plans to study at the Arizona Culinary Institute and hopes to become a Sous Chef.
More like this story