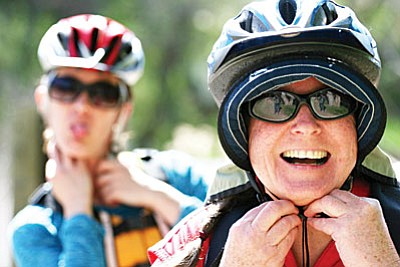 Originally Published: March 17, 2016 5:15 p.m.
With 17 miles of the Verde River flowing through Camp Verde, it seems reasonable that at least one component of the Town's annual celebratory events should be riparian in nature.
Going on its 16th year, the Verde River Runoff is one of the signature events at the town's annual Spring Heritage Pecan and Wine Festival, held March 19-20.
This year, Runoff participants will be able to travel either five miles - or 10 miles. The destination for both races is Beasley Flats, but the 10-milers will start at White Bridge recreation point on Quarterhorse Lane at SR 260.
The five-mile race will launch at the Clear Creek access point, off Salt Mine Road.
Event organizer Bob Rothrock stated that people come out for the annual event "because it is fun and they appreciate having the Verde River."
Each year, the river excursion has drawn "about 100 participants as allowed by permit of the Prescott National Forest," says John Bianchini, outreach coordinator for Verde River Valley Nature Organization, organizers of the event.
But this year, the U. S. Forest Service has allowed VRVNO to double the amount of entrants.
"This is a good way for local boaters to come and meet others who share their enthusiasm of the river," Bianchini says.  "Participants range from serious to casual. Boaters are expected to have a basic working knowledge of navigating a boat in moving water.  Not an event for a first timer, though if someone has never done this before and wants to, they can go down river with a local outfitter or boat rented from them - for even just a few hours - to get the experience necessary to join the runoff."
Canoes, hard kayaks, inflatable kayaks and stand-up boards can be used in this race.  The Inflatable kayak, Bianchini says, is "the best all-round boat for the Verde because it is safe and easy on the obstacles like trees and rocks.  Canoes are fast, but heavy."
For the first time, stand-up boards, which act like a river surfboard but require care near rocks, can be used at this year's event. Bianchini says that the boards are becoming more popular.
"They all have their benefits and drawbacks," Bianchini says. "It just depends on the purpose of the boaters."
To take advantage of the spring runoff or snowmelt, the Verde River Runoff has been moved to an earlier date this year.
With expected flows, it may offer class I - III rapids (weather depending). Class III rapids are rapids that push boaters quickly, but do not require the maneuvering like class IV.
Participant cost is $25 for the five-mile race, and $50 for the 10-mile race. All paddlers must be 12 years old or older. Any paddlers between 12-18 years old must be accompanied by an adult.
To register, visit www.VRVNO.org.
-- Follow Bill Helm on Twitter @BillHelm42 and on Facebook at @CampVerdeBugle
More like this story