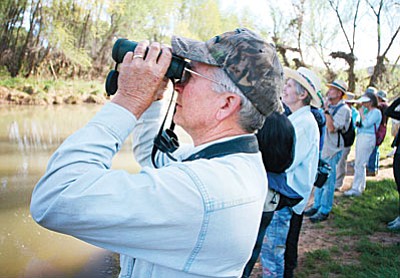 Originally Published: March 19, 2016 2:32 p.m.
It takes more than one's eyes to identify a bird, says birdwatcher Jeff Tanner.
Their sounds - and their behaviors, are ways to tell the difference between a bird that may look similar to another.
"Part of the fun of birdwatching is learning to distinguish them over time," says Tanner, who along with Chip Norton and Loretta Mogan will lead a birding excursion Sunday along the Verde River.
Though the team of birders leads several of these treks each year, they still enjoy learning something new.
"That's the fun," Norton says about watching birds. "Every day" he sees a bird he may not recognize. "So we work together and we figure it out."
Norton says that Sunday's group will likely see Kingfishers, Wood Ducks, Woodpeckers, Fly Catchers, Nesting Black Hawks, Warblers and Herons. And Tanner says he expects to see common Black Hawks, Gila Woodpeckers, Abert's Towhee, Red-winged Blackbirds, and Song Sparrows as well. No matter the breed, the birds to be seen on the Verde River "are indigenous to the area," Norton says.
"Though in March, some of the birds we will see are just passing through, refueling in their migration," Norton says. "It's like the hotel on the freeway. They pull over, they get a little rest."
Though there are several books about birds - as well as phone apps, Norton says the best way to birdwatch is to go with more experienced people.
Says Mogan, there are "plenty of experts on most trips, so if you don't know the name of the birds, someone will help."
At 8:30 a.m. Sunday, birding enthusiasts are to meet at the parking lot at Rezzonico Park on Montezuma Castle Highway near the Camp Verde Community Library. After a short talk, the fun begins, as the group will then make the short walk to the Verde River's Black Bridge access point for 90 minutes of "talking about bird life, habitat, how unique and special it is," Norton says. "It's pretty easy walking. A lot of stopping. We'll look at birds. We'll talk about birds."
According to Tanner, some birds are very shy of people, while others can be more comfortable.
"If you have decent binoculars, or even a spotting scope, you can observe them from a distance without spooking them," Tanner says.
Sparrows, wrens, doves, robins, ravens can be more comfortable around people, Norton says about birds that "possibly could be seen along the Verde River."
Besides binoculars, bring drinking water, a good pair of shoes, and a bird guide if possible. Even bring a camera.
Most important, Norton says, is to bring "your curiosity - and enthusiasm."
"And when we're done, we go over our bird list, answer any questions the folks have," Norton says.
Tanner, Mogan and Norton lead birding excursions during each of the Town of Camp Verde's signature celebratory events, such as the Spring Heritage Pecan and Wine Festival, Cornfest and Fort Verde Days. Sunday's excursion is connected to the Spring Heritage Pecan and Wine Festival.
-- Follow Bill Helm on Twitter @BillHelm42 and on Facebook at @CampVerdeBugle
More like this story