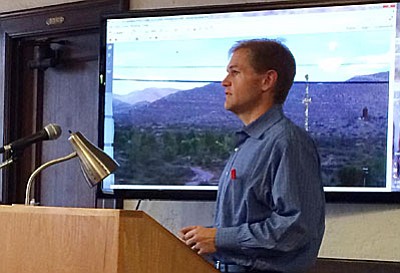 Originally Published: March 22, 2016 3:19 p.m.
Commuters between Camp Verde and Cottonwood as well as local RV park visitors may see improved wireless service in their future as the Town of Camp Verde Council considers Planning and Zoning Commission's unanimous recommendation of a new cell tower during its March 23 meeting.
The proposed site an 80-foot monopole cell tower at SR 260 and Coury Drive is an industrial area occupied by auto dealerships and a proposed RV park. No public dissent has occurred at previous public hearings.
Planning and Zoning approved the cell tower on Feb. 24 with the stipulation that "all tower structures and all equipment attached be a painted a non-reflective gray color."
Reg Destree of Destree Development is representing applicant SBA, which proposed the tower in 2011 for Verizon Wireless.
The Camp Verde Town Council will meet at 6:30 p.m. in council chambers, located at 473 S. Main St., suite 106.
A copy of the agenda can be found at the Town of Camp Verde's website, www.cvaz.org.
-- Follow Tom Tracey on Facebook at @CampVerdeBugle