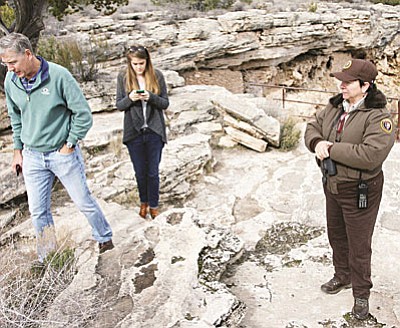 Originally Published: March 26, 2016 1:38 p.m.
To the National Park Service, this year's SciTech means learning about Sonoran Mud Turtles, silent stones and archaeology.
On Saturday, April 2, the National Park Service will host three Verde Valley SciTech events at the Verde Valley's national monuments.
Park Biologist Tina Greenawalt and Bioscience Tech Frazier Watson will talk about on-going research and monitoring of native Sonoran Mud Turtles, hummingbirds and bats from 10 a.m. until 11 a.m. at the picnic area of Montezuma Well National Monument at the first event, Turtles and Birds and Bats, Oh My! Montezuma Well is located at 5525 Beaver Creek Road in Rimrock.
The second activity is called "What the Silent Stones Tell Us" and is a study of dating techniques archaeologists use. NPS staffer Skip Larsen will tell how different artifacts and features found at archaeological sites "provide strands of information that, when woven together, create a rich and colorful tapestry that provides us a glimpse into the ancient past," Larsen says. 
The program usually lasts from 30 - 40 minutes.
"What the Silent Stones Tell Us" will be held from noon until 1 p.m. at the interpretive circle at Montezuma Castle National Monument, located at 2800 Montezuma Castle Road in Camp Verde.
From 2 p.m. until 3 p.m. at Tuzigoot National Monument, listen to chief of resource manager Matt Guebard discuss archaeology in the Verde Valley. Guebard, who has worked at Tuzigoot for the past eight years, says the talk will mostly focus on the site's architecture.
"Looking at the walls, the condition of the walls," Guebard says. "But also trying to understand how, when and why they were built."
Guebard says his talk is geared to be informal and about one-half presentation and one-half question and answer.
"We will walk around the site. Point out things. Talk about excavations, particularly depression-era, as well as excavation procedures used at that time," Guebard says. "And we leave a lot of time for people to ask questions based on their interest in the subject. Some of the things I find interesting are different than what others find interesting."
Guebard, who has been in central Arizona for close to 15 years, says archaeology is "the only thing I ever wanted to do."
Tuzigoot National Monument is located at Tuzigoot National Monument is located at 25 Tuzigoot Road in Clarkdale.
On April 7 from 10 a.m. until 3 p.m., National Park Service staff will also participate at the SciTech event at Camp Verde High School. A model of Montezuma Well will be on display, and park staff will show several videos about the Well and the surrounding area.
As a part of the week-long Verde Valley SciTech Festival April 2-8, each of the SciTech events will be no charge.
The Verde Valley SciTech festival is a week-long region-wide celebration of Science, Technology, Engineering and Math (STEM) held annually in April.
When you include arts, it becomes STEAM.
The festival is a series of fairs, workshops, exhibitions, tours and expos held throughout the Verde Valley to motivate and educate the entire community.
Local SciTech events include:
April 2
- National Park Service "Verde Valley national monuments, science and history." Montezuma Castle National Monument, Montezuma Well and Tuzigoot National Monument.
April 5
- Beaver Creek School "STEAM Extravaganza." 4810 East Beaver Creek Road, Rimrock
April 7
- Camp Verde High School/Town of Camp Verde "SciTech Day 2016." 201 West Apache Trail, Camp Verde
For a complete schedule of events Verde Valley-wide, visit www.vvscitech.org.
More like this story