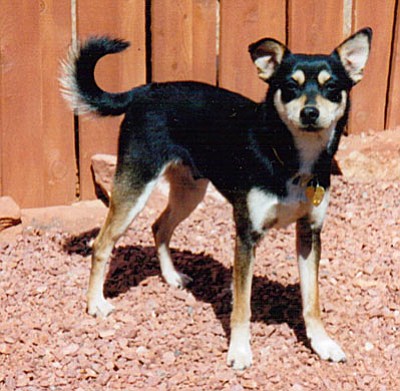 Originally Published: March 31, 2016 5:04 p.m.
Editor:
My name is Caleb. I am a 15-year-old, 18-pound terrier mix. I was adopted from the Sedona Humane Society 14 years ago by a couple who live in Village of Oak Creek.
I love to go for walks and rides. We recently took a long drive and walked on the Grand Canyon rim trail. What a great day we had! My parents are always telling me what a good dog I am and they treat me like royalty. They are very aware of my needs and when I am sick, they do whatever it takes to get me back on my feet.
If they take a trip without me, they even have a nice person come stay in my house so I don't have to go to a strange place. And when they return, they always bring me a new toy. I have lots of toys! I couldn't ask for a better family!
I have been fighting a tumor in my bladder for nearly a year and a half. My parents keep me comfortable and I still enjoy eating and going for walks. All of the neighbors know me and I like them.
They tell me I am a good dog and give me treats. I love my backyard. It is fenced and I feel safe there. I love laying in the grass and chasing the Frisbee. I can't run and play like I used to; I'm starting to feel my age.
My dad was walking me on March 11th in V.O.C. when we were attacked by a large, unrestrained dog.
My owner did everything he could do to fight off this dog, but we (me and my Dad) were both bitten and injured. It makes me sad to see the bite marks on my dad's hands and my back is very sore from where the dog latched on to my body.
We later find out that this is not the first time that this dog has been a menace. This should never happen again.
It's been almost a week since the attack and I had been doing quite well.
Today, however, I started feeling sick again. My parents tried to give me some pain meds with a tasty treat, but I am not feeling hungry or thirsty.
Later in the day I am having trouble standing and the pain is worsening. I guess the trauma of the attack was just too much for a dog my age.
My parents take me to see a nice lady who gives me a shot to help ease the pain. I awake around 1 a.m. and I am now in extreme pain. My cries have been heard by my parents who are visibly upset. They are crying and making some phone calls.
They pick me up and put me in the car. Normally, I am excited to go for a ride, but I am not feeling well at all. I didn't realize at the time that this would be my last ride.
It is dark and we arrive at our destination. Two nice women greet us and I am laid down on a table covered with a colorful blanket. I am given a shot to ease my pain and I immediately go into a deep sleep.
What a relief to be out of pain! Another shot is given and I feel like I am running toward a bright light. I reunite with Maya - who I haven't seen in years - and Chula who left two months ago. We are happy to be together once again.
I want to thank my parents for the wonderful life we had together.
I only wish people with aggressive dogs would be responsible and keep them restrained.
I'd probably be going for a walk right now if that dog hadn't got me; I wasn't ready to go yet. This has taken an incredible toll on my parents and I can only hope that they will heal with time.
Caleb ... submitted by
Buck and Joanne Curry
Village of Oak Creek
More like this story