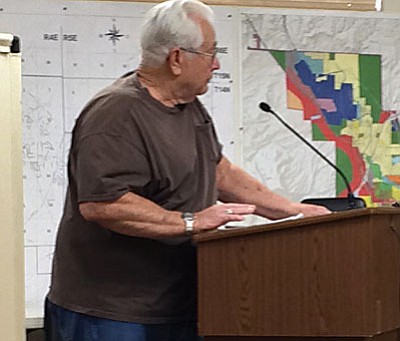 Originally Published: May 5, 2016 3:34 p.m.
VERDE VALLEY - Three bombshells were dropped during the Camp Verde Town Council meeting May 4 when the current water franchise was not approved, the privatization of Meals on Wheels was introduced and a taxpayer blasted town government for what he said is a lack of transparency regarding marijuana facilities.
"I haven't heard a peep out of any of you about this pot farm"
The meeting opened with 46-year resident of Camp Verde, Warren Harris, unloading on council for the town's silence on a new medical marijuana growing facility that will surpass the Northern Arizona Healthcare campus in size.
"You talk about transparency, I haven't heard a peep out of any of you about this pot farm," said Harris. "You are here to serve us, the citizens. I just like to be kept abreast of what's going on."
He went on to say that the guinea fowl controversy received more press and that he hoped the town would be as strict on the growing facility as it has been on subdivisions.
When members of council appeared puzzled, Town Manager Russ Martin said that he would provide council with a written explanation.
The size and nature of the agricultural facility, although not requiring a public hearing, was mentioned during a public budget meeting April 22. The town generally posts videotapes of public meetings on its website; however, April 15 through 22 are listed as "No Media" and the discussion by Building and Code Enforcement is absent from the official minutes, which are a summary only. The town manager and community development director have declined further comment at the advice of the town attorney, citing ARS 36-2810 Confidentiality.
After nearly 60 years in area, current water provider denied franchise
A purported paperwork snafu between the town and the current water system provider may have been the final straw to break a nearly 60-year relationship with area residents.
Justin Bullard, Vice President of Camp Verde Water System, Inc., stated that the written agreement he received was different than the one reviewed by council.
"Section 2, second paragraph, there's some language inserted by Bill (Sims, town attorney) but never commented on or highlighted. I looked at the draft for council review and it was not highlighted or corrected or commented when it was sent to us," said Bullard. "If you go back to the first Executive Session, the other part that got struck was Section 3, Part B."
Martin explained to attendees that the point of contention was the water company's requested prior rights. The town attorney suggested a date matching the town's incorporation of 1986.
"When the previous agreement was adopted, the taxpayer would foot the bill, even if it was cut in 1977," said Martin.
The water company, which pays the town a 2 percent franchise fee, has been working without an official agreement since 2013. The hope was to send a council recommendation of franchise for voter approval August 30.
Council members voiced frustration with what they saw as a hurried agreement request and unanimously disapproved a 25-year franchise request by the company.
"What that means is the company no longer is operating under a franchise and will no longer be collecting the 2 percent franchise fee from users," said Martin.
Speaking of water, Finance Director Mike Showers revealed a hike in sewer hookup fee of $100 to $1,750 in the event of a request to reconnect.
The town will also begin charging people $50 monthly who are in a position to hookup to the town's sewer system but decline the connection.
"The point is to recover the cost so other users don't have to pay that cost," said Showers.
Privatize Meals-on-Wheels?
Vice Mayor Bruce George introduced "the P word" (privatization) as a possible fix for the Meals-on-Wheels dilemma.
What was listed on council agenda as "alternatives to funding the Verde Valley Senior Center" -- which although based in Cottonwood provides an average of 50 meals daily to hungry homebound seniors in Beaver Creek, Camp Verde, Lake Montezuma and Rimrock -- unfolded into a Powerpoint presentation by Vice Mayor Bruce George.
Valley Services, Inc. is a Mississippi company that currently provides frozen meals to hospitals, prisons, schools and other institutions. George, who himself volunteers with wife Patricia to do senior citizen's tax returns - - compared the cost of food, preparation and fuel of "$6 to $10 per meal from Meals-on-Wheels to $1.74 with Valley Services."
The service provides the meals, freezers, trucks and drivers. George stated the estimated cost could vary.
"I believe with this program you could deliver five meals at once and save volunteer time, wear and tear on vehicles and gas. There's always a tradeoff," said George.
The tradeoffs, however, are unpalatable to Elaine Bremer, Executive Director of the Verde Valley Senior Citizen's Association and Ron Polsten, local Meals-on-Wheels volunteer.
"What about the nutrition compared to a freshly-prepared meal?" asked Bremer. She also noted the town reduced annual funding of the senior program from $12,500 to $5,000.
"What about human contact?" asked Polsten. "They want to talk to someone. Sometimes we are the only people they see all day."
"I looked at that company a year ago and they were not interested in working here," said Steve Goetting, director, Camp Verde Chamber of Commerce. "Meals-on-Wheels has done a phenomenal job with the money they have. You cut them from $12,500 to $5,000 so maybe we need to look at going the other direction with funding."
Polsten stated the town's current contribution amounted to "only 23 cents a meal."
Another alternative discussed at the meeting was expanding the kitchen at the current Senior Center of Camp Verde, located at 263 W. Maryvale Dr., so Meals-on-Wheels could operate locally. Another option was incorporating the service with Bread of Life Mission if its planned facility expansion were to become a reality.
Bremer said she received a letter from a 74-year-old disabled Veteran who said he has to split his one meal a day between lunch and breakfast the following morning.
Mayor Charlie German requested further exploration of all three alternatives to address homebound senior meals.
More like this story