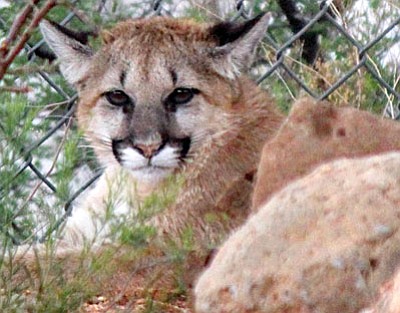 Originally Published: May 7, 2016 2:46 p.m.
CAMP VERDE -- It took a rescue and blessing by the Tohono O'odham Nation, and an agreement between the State of Arizona and the Out of Africa Wildlife Park.
But a recovering 28-pound, 6-month-old mountain lion, who lost its sibling to a dog attack in Southwest Arizona on the Indian reservation, was safe in its new home Friday at Out of Africa.
It was quietly laying in its shelter in Camp Verde Friday, shaded from the sun and all the fuss being made outside by visiting journalists and staff.
The mountain lion does not have a name yet, according to Ashton Powell, Public Relations Director at Out of Africa. And for a while, she won't come out because she is scared. But the public will eventually get to see her when she has become more comfortable.
Unfortunately the still-unnamed mountain lion could not be returned to the wild.
"Ideally, we would return this mountain lion cub to the wild, but unfortunately, at six months old, it didn't have the skills it needed to survive, explained Mike Demlong spokesman for the Arizona Game & Fish Department. Typically they are around their mothers for a year to 18 months, he added in a video statement.
The Game & Fish decided this was the best option for her for a "long-term life," as an animal embassador at Out-of-Africa, explained Dean Harrison, president Out of Africa Wildlife Park. Her close neighbors will be two bears that have also been brought in from Arizona Game and Fish, he said in the same video statement.
It took a lot of trust for Arizona Game and Fish to choose Out of Africa for the mountain lion, explained Amy Burnett of Arizona Game & Fish Information and Education. The staff at Camp Verde wildlife park is well respected when it comes to their expertise in handling animals.
But Burnett added that it was also a "great honor" for the Tohono O'odham Nation to allow the Arizona Game and Fish and Out of Africa to take the mountain lion and give it a home.
The Nation members rescued the mountain lion in Sells. They found it without its mother and its sibling was killed by dogs. The cub was already without a mate, very weak and dehydrated, Burnett said.
So it wasn't very difficult to catch, she explained. After some recovery at the Adobe Mountain Wildlife Facility, all the parties decided the best place was to bring the mountain lion to Out of Africa, Burnett said. This included the Chairman of the Tohono O'odham Nation, she added.
Powell said the park has had mountain lions in the past, but this will be the only mountain lion at this time. More mountain lions may be added at a later time.
However, living next to the mountain lion will be two bears that were also part of an agreement between the local wildlife park and Game and Fish.
However, the mountain lion is coming out at night and the park staff is monitoring the mountain lion with remote cameras.
"She's going to determine her comfort level, first with the keepers, which is already starting to be established," explained Powell. "She should be coming out more during the day." "She wants to stay in her den, that's her comfort level and that's good."